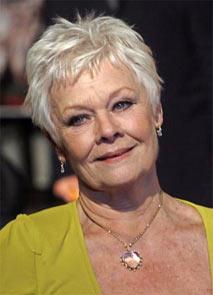 The Most Exotic Marigold Hotel 2 unfolds in Udaipur.

Judi Dench, a Best Actress Oscar nominee this year, could not attend the Academy Awards ceremony earlier this month because she was shooting her film, The Best Exotic Marigold Hotel 2, in Ravla Khempur, 55 kilometers from Udaipur, Rajasthan.

Dench was nominated for Best Actress for Philomena based on the real-life story of a nurse, Philomena Lee, who wanted to trace the son she was forced to give up for adoption when she was an unwed teenager.

Dench gave the Golden Globes ceremony a miss too because of the shooting schedule for the Best Exotic… sequel.

The whole unit watched the Academy Awards ceremony at the Ravla Khempur Hotel where the unit was staying.

An insider, who is part of the crew, said Dench got quite emotional when the Best Actress award went to Lupita Nyong'o for her harrowing portrayal of a cotton picker, who was repeatedly raped by her owner in 12 Years A Slave.

The cast of the 2011 The Best Exotic Marigold Hotel had stellar stars like Bill Nighy, Tom Wilkinson, Maggie Smith and Penelope Wilton.

A bittersweet, inspiring story drove the $10 million film to become a major hit, earning more than $136
million worldwide and spurring Searchlight Pictures to make a sequel.
Dench, Smith, Nighy, Wilton, Dev Patel, Celia Imrie, Tena Desae and Ronald Pickup from the first film are joined by Richard Gere, Davis Strathairn and Episodes' Tamsin Greig for the sequel.
Director John Madden and screenwriter Ol Parker, who adapted the first film from Deborah Moggach's novel
These Foolish Things,
are also back on board.
The Best Exotic Marigold Hotel 2
is about the expansionist dream of hotelier Sonny (Dev Patel). This takes up most of his attention, leaving little time for his imminent marriage to the love of his life, Sunaina (Tena Desae).
Sonny has his eye on a promising property now that his first venture,
The Best Exotic Marigold Hotel
for the Elderly and Beautiful, has only a single remaining vacancy -- posing a rooming predicament for fresh arrivals Guy (Richard Gere) and Lavinia (Tamsin Greig). Gere also shot some romantic scenes with Lilette Dubey.
The unit first shot in Jaipur at different locations and then moved to Udaipur.
Most Exotic Marigold 2
takes a much lighter, almost comical view of life in India, though it doesn't stint on the crowds and the chaos.
Photograph by: Stefan Wermuth/Reuters