He's styled some of the most gorgeous women on screen, and after his work with IPL's Kolkata Knight Riders, is experimenting with track pants as evening-wear.

It was day-night one-day cricket that introduced coloured jerseys and track pants for players. But it was the first edition of the Indian Premier League (IPL) that made cricket-gear glamorous. And fashion designer Manish Malhotra, who until IPL happened, was better known for dressing some of the most beautiful women on the silver screen, took it a step further by dressing the Kolkata Knight Rider team in colours -- black and gold -- that hadn't been seen on a cricket ground till then.
Malhotra tells Archana Jahagirdar that the credit for the idea of those unusual colours must go to the Knight Rider team owner and film star Shah Rukh Khan.
 
Malhotra is running late and as he walks into Empress of China, at the Hotel Intercontinental in New Delhi wearing a crisp blue Abercrombie & Fitch shirt and blue jeans, he apologies and says, "I am obsessed with food."
By this time, I have polished off some yummy cashew nuts, kimchi salad and other nibbles that the restaurant thoughtfully provides. Malhotra's lithe, well-worked-out frame belies that statement and during the course of the lunch it becomes clear that a combination of careful eating and serious gym time has helped Malhotra keep himself trim even though he is now 40-plus.
We get the business of ordering food -- he is a happy non-vegetarian and I, a committed vegetarian -- out of the way and start talking.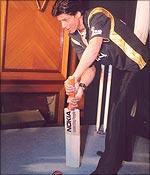 Says Malhotra, "We have a new look for the Knight Riders kit for IPL-2 and we will be unveiling it soon. When Shah Rukh came to me, he clearly wanted black and gold. Black was to signify power and gold for glamour. Gold hadn't been done before for cricket. It really worked."
This year, Reebok is likely to have Knight Rider jerseys for women too, he says.
 
Malhotra's association with the Knight Riders continues to influence him and his autumn/winter collection that was showcased at the recently-concluded Will Lifestyle India Fashion Week. It had track pants as possible wear for a classy evening out.
Says Malhotra, as he tries some of the starters -- black mushrooms in rice pancake, sautéed vegetable salt and pepper and some steamed chicken wontons -- before carefully removing the outer layer of the dim sums, "My entire show is based on the Knight Riders. I want sporty wear to become acceptable as evening wear. My people already wear a Juicy Couture track pant for lunching with friends, this collection wants people to take that forward."
 
For Malhotra, everything good that has happened, including this association with cricket, has been because of the movies. As a child, he says, "I was crazy about Hindi masala movies. I would watch movies over and over again. I was clear that whatever I would do in life, no matter what, it would have something to do with Hindi commercial cinema."
Being born in a middle-class Punjabi family, convincing them of a career in fashion for Hindi cinema seemed suicidal. Says Malhotra, "I started my career as a costume designer and at that time, it was looked down upon. In 1990, it wasn't easy for a man to become a designer. When my parents would voice their concern, I would tell them that I am also doing some modelling and that I would get by. They would say hero ban ja."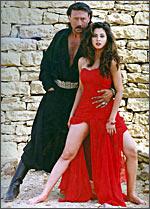 The first five years of Malhotra's life in Hindi cinema, were more or less uneventful, or at least that's how it seemed from outside. Few had heard of him outside the film industry. And then in 1995, Rangeela was released. Urmila Matondkar, who had been struggling to find a foothold in films as a lead actress, was transformed by Malhotra into one of the sexiest women on screen.
Says Malhotra of that magical time, "It was exciting to work with Ram Gopal Varma. Urmila, Ramu and I worked very hard at that time." Malhotra says, sipping on some excellent Chinese green tea, that they were all young then and the energy and the willingness to try something new and daring was what made Rangeela such a landmark film from a style perspective.
 
The starters, by this time, have been cleared and as we wait for the main course, Malhotra says, "I am actually a frustrated director. That's why I choose to enter this industry."
Rangeela's release was followed by Raja Hindustani in the same year and, once again, Malhotra scored with the look he created for Karisma Kapoor. Gone were her thick eyebrows and boring curls and a new sleeker, more contemporary look was introduced. After these two big films, there has been no looking back for Malhotra.
Dil to Pagal Hai, another blockbuster hit happened a couple of years later. If Bollywood has been won over by Malhotra, he has been able to spin his magic down south too. The styling for Rajnikanth-starrer Sivaji was also done by Malhotra.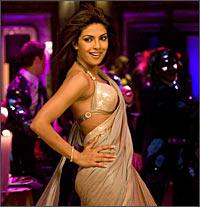 More recently, Malhotra was feted for making Priyanka Chopra come across as a real style maven in the hit film Dostana. Recalls Malhotra, eyeing the delicious-looking main course as it makes it to our table, "Karan (Johar, the film's producer) and I were discussing what Priyanka should wear for that song. And he felt that a sari wouldn't be suitable as Priyanka's character in the film is based in Miami. I countered that by saying that if her character can sing Desi Girl in Miami, then she can wear a sari." He continues, "For a song, the actors have to really stand out. There was a tussle between a gown and a sari for that song."
 
The main course of vegetables in black bean sauce, some vegetable fried rice and chicken in soy-inspired sauce is served to us. Clearly Malhotra wants to keep the calorie intake to manageable levels and I follow suit. More green tea is also poured for us.
With success comes problems. Each time any of the films, that Malhotra has designed and styled for becomes a hit, he is inundated by clients who want him to copy that look for them. But Malhotra rarely obliges. He says, "As a creative person, it is very boring to keep repeating one's own work. What I do for my retail clients is very different from what you see in films." However, the popularity of the grey-silver sari in Dostana has compelled him to sell some variants of that in his store.
 
The Desi Girl sari's popularity, Malhotra hopes, will once again urge the super-stylish to wear a sari, instead of the now-preferred gown. Says Malhotra, "I no longer give actresses gowns for the red carpet." Priyanka Chopra, for instance, wore a sari for a dinner hosted by the international luxury label, Salvatore Ferragamo. Another trend that Malhotra no longer likes to follow is of getting a Bollywood star to walk the ramp for him during fashion week.
He says, "I was the first to do it. Now everyone is doing it." But the front row at a Manish Malhotra show is still packed by Bollywood A-listers.
 
The main course, by then, has been cleared by the extremely efficient staff at the Empress of China. Both Malhotra and I decline dessert. We, instead, ask for another round of Chinese tea in fresh cups and as we wait for it, Malhotra says, "I have been in the film industry for 19 years and I am still enthused by it. I love films more than fashion. If I have to choose between a show or a party or watching a film, I will always choose the film."
Bill paid, Malhotra is off to put finishing touches to his show, slated for the day after we meet and his parting shot to me is: "I have wheels on my feet. I am quite suited for films."