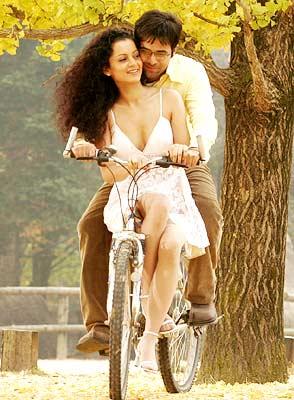 Abu Salem maybe behind bars in real life, but his life is being put to reel.
Gangster, a film loosely based on the life of the dreaded underworld don and terrorist, will hit theatres by March 2006.
Anurag Basu -- of Murder fame -- is directing the film, which stars Shiney Ahuja, Emraan Hashmi and newcomer Kangna Raut. 
Interestingly, Pakistani Cricketer Shoaib Akhtar was offered the leading role in Gangster. So was Sanjay Dutt, but both refused.
It was then that Shiney Ahuja was signed on to play Salem.
Kangna Ranaut is playing the role of Salem's moll Monica Bedi, and Emraan plays Kangna's love interest.
Besides being a film on the man who terrorised Bollywood for quite a long while, Gangster has another interesting angle. It is purportedly the first Bollywood film to be shot in South Korea.
"We had the choice of going to Thailand or Singapore but we chose South Korea because no Hindi film has been shot in there," says Mahesh Bhatt, whose banner Vishesh Films has produced the film.
"Globalisation does not mean Westernisation. This thought hit me like a ton of bricks when I was shooting for Gangster in the enchanting landscapes of Seoul. South Korea's beauty has a lot to offer," Bhatt adds.
"The Indian film industry is the largest in the world in terms of number of films produced and released each year. After Gangster we hope other producers in the Indian film industry will come and shoot in our country," says Hyo Sik Jeon, director, Korea Tourism Organisation.
Incidentally, South Korea and India share the same Independence Day: August 15.
Text: Syed Firdaus Ashraf
Also Read: 'Bollywood can sleep now'