He's changing things up, going from Bollywood to foreign films and radio shows.
Anupam Kher has made headlines for grabbing a role in Ang Lee's next film, Lust, Caution. Also, he voices Jatayu the sidekick in a BBC Radio adaptation of Satyajit Ray's detective series, Feluda.
Patcy N caught up with the actor during lunch, and between bites, heard him speak of his Ang Lee experience, Madhuri Dixit's comeback, and more. Excerpts:
What type of a person is Ang Lee?
I am a great admirer of his works like Crouching Tiger Hidden Dragon, Brokeback Mountain and Sense and Sensibility. It's a great honour to work with an Oscar-winning director. And the biggest thing is that Lee is an Asian who made his name in Hollywood.
Lee is a friendly person; he is not aloof. He recognised my contribution to my industry, and treated me on an equal level. As a director, we all respect him as he has proved himself. But as a person, I have started respecting him more after meeting him. He also has a great sense of humour.
How did you get this offer?
Shirish Kunder knew the casting director of Lust, Caution. Shirish knew the casting director through Farah Khan, his wife, as she had choreographed for a Chinese film. He emailed Shirish, telling him about the character he wants and requesting him to look out. So Shirish actually suggested my name, I sent the casting director my stories and I was on.
What did this role demand of you?
Take any role, it's on paper first; it's the job of an actor to get into it and put life in it. When I got this role I put all my experience in it. But if you ask me about my contribution, then I will say that I wasn't going to do something new. I just had to do things that were already conceived. I just had to do it properly.
In some roles, you don't have to do much as they are so well defined that you just have to play them elaborately. That is also a sign of a good actor. You don't have to act in all the roles; you have to live some roles. And this was one such role.
What is Lust, Caution about?
Lust, Caution is based on the short story by Eileen Chang. It's about World War II where the Japanese had occupied Shanghai, China. It's a human drama, and has nothing to do with blood. It's a kind of thriller. It's different from other Chinese films. It does have action, but isn't an out and out action drama. I am not part of any action in the movie. It is different from other Ang Lee movies.
What is your role in the movie?
I play an Indian jeweller in Shanghai called Khallid Shayudin. In terms of length, my role is not big but in terms of plot, it is a very important role.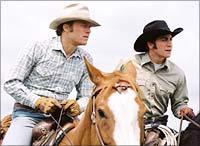 It seems you were reluctant to watch Brokeback. Why?
To start with, yes. I told Mr Lee this as well. I felt it was a film overhyped by the media as it deals with homosexuality.
But when I saw the movie, it moved me completely. It is a love story between two human beings. It did not come across to me whether they were same-sex or anything like that; in fact that took a back seat. When I asked Ang Lee about the film, he replied it is about 'missing.' You meet people and then you don't realise [how much you care for them], until at some stage, that you miss them.
Who are the other actors in the new film? How were your interactions with them?
There is a new actress, Tang Wei, and Tony Leung, a very famous actor. I have seen many of his movies like In The Mood For Love and 2046. I am a great admirer of his work.
When we meet other countries' actors, we don't need to meet them as lesser actors. I am a very powerful actor of my own country, one of the leading actors. So I don't have to meet them as something less. Appreciation and praise are separate, but when it comes to work we are equals. They have certainly not given a break to a newcomer. But yes, it was the first time I was working with an Oscar-winning director.
How long were you in China?
It was a six-day shoot. Most of the time, I was on the sets as we were working for 14-16 hours. One day, I got a little break and so that was the only day I moved around.
It seems you are going to donate part of your remuneration to some NGO in Shanghai.
I have donated 50% of my remuneration to a Shanghai orphanage, while the rest I will donate in India. I am going do this because God is kind to me -- He has given me a break. So, I think that as a gesture, I must give that money to people who need it more than I do. Here, I might donate to a child who is suffering from blood cancer. I got a request from him.
What are your other projects?
Right now, I am doing a radio play for BBC. Satyajit Ray wrote a detective series called Feluda. Two adventures are being made into radio plays for BBC. It's a one-hour play. I will also be doing Pradeep Sarkar's film. I am also finalising a few smaller projects.

Are you doing the Yashraj Films movie with Madhuri Dixit? What do you think about her comeback?
I am not doing that movie, as dates did not match. I would have loved to do that as we have done number of projects together. Madhuri is a delightful person, a brilliant actor and effortless in her work. She is simple yet sharp as an actor. She is a very good co-actor.
I don't like the word 'comeback.' It is a sabbatical that she took to have a family, and now she has started work again. You don't forget acting just because you haven't done it for long. Yes, the audience may not accept you but it is a decision that you can't help. I think she is lucky to do a Yashraj film, and they know their job well. She is in safe hands.