Home > Movies > Reviews

Brokeback Mountain is just breathtaking

Raja Sen | March 05, 2006 18:53 IST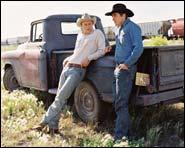 Much has been said about Brokeback Mountain.
It has been described, mostly gushingly, as a gay cowboy movie; a monumental film about homosexuality; and a crusade shattering gay stereotypes in mainstream Hollywood. Most of these – despite the first description being accurate, albeit unforgivably dismissive – are not at all relevant. When you watch Ang Lee's startling, breathtaking film, you realise that Brokeback Mountain, while containing all of the much-publicised buzzwords, is not about sex, homosexuality, or even love between two men. It is, simply, about love.
Based on Annie Proulx's 30-page short story of the same name, one with the distinguished reputation as the finest work of short fiction to ever appear in The New Yorker, the film roughly traverses two decades in the lives of two cowboys, Jack Twist (Jake Gyllenhaal) and Ennis Del Mar (Heath Ledger), who befriend each other on the Wyoming mountain with the now-iconic name, and discover feelings they never knew existed.
Lee's film opens with spectacular vistas, the kind that belong on the covers of colour-pencil boxes: impossibly blue skies dotted with perfect clouds, lush green valleys cleaved by streams of freshly-shorn sheep, and the mountain itself. Towering over it all, silhouetted in the background or shadowing the protagonists, Mt. Brokeback dominates the film, Rodrigo Pieto's glorious cinematography elevating the film to the ranks of the best Westerns ever shot – traditionally, thanks to John Ford and Sergio Leone, a very difficult category.
| | |
| --- | --- |
| | Oscars on rediff.com ! |
| | |
Yet, for all the visual bravado and the overreaching scale of the effort, Lee masterfully keeps the film itself in tight, extreme close-up. This is a movie about Jack and Ennis, and does not move beyond them, concentrating broodingly on their every nuance. Each word vital – especially since there are so little of them – and all acts crucial, the movie sees the young ranch-hands grow near and apart over a considerable period of time, without giving them any elbow room. Lots probably happens – must have happened – in the gaps we do not see, but the director keeps us so close to the action that we can hear the two cowboys breathe, their sighs echoing off the immaculately framed hills and horses. This might be a big, majestically shot movie, but it's impressively intimate.

Just lads when they meet in Wyoming in 1963, Ennis and Jack don't immediately strike a friendship. Ennis, the stereotypical Marlboro Man, is a man of very few words and a gruff, no-nonsense manner, but as work forces him to spend time with Jack, the (relatively) outgoing and posturing rodeo rider, the two gradually lapse into camaraderie. It is the languid pace that is the key here, Ang Lee settling on spaced out moments unhurriedly, giving his characters time to breathe, to come to grips with each other. The realism this brings about is incredible, as, by the time these two actually like each other's company, they have grown on us as well.

Heath Ledger has an extremely difficult role, a melancholic Spartan stoically, regularly denying himself of pleasure. Ennis Del Mar, as we discover from his suddenly-candid confessions, was orphaned young and is used to constant rejection. The result is an extreme introvert, elusive toward and even frightened of his own feelings. Ledger delivers unerringly, a powerhouse performance superbly balancing words spat out in anger with artificially applied calm. He fleshes out the character with impressive credibility, helping us relate to his impassiveness and his pain. It isn't easy to make distant audiences empathise with a grizzled cowpoke but Ledger does all that is required of him, and more.

Nominee Spotlight: Heath Ledger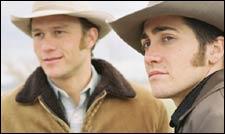 Sitting by the campfire, ignorantly discussing the difference between Methodist and Pentecost, Jack concludes by defining the latter as the belief that sinners like 'you and me' will march straight to Hell. 'Well, I don't know,' growls Ennis, shame and pride both flashing through in his defiance, 'you may be a sinner, but I ain't yet had the opportunity.'
Ennis may be a virgin, but Jack Twist, seasoned whiskey-drinker certainly knows his way around sin. Gyllenhaal's role is a demanding one, the proactive seducer who crafts together this relationship. From the start of the film, he casually, inflammably exudes a sexual ambivalence. Jack might suggestively have headed them into the act, but his emotional candour obviously gives the character a heightened vulnerability. His raw edginess serves constantly to give the film – the otherwise lazy film – an energetic momentum.
A chilly night is spent huddled together in a tiny tent, and when Ennis and Jack first get intimate, it is an act of violence, an act simmering at the edges – you don't know if Ennis will throw a punch, or if Jack is manipulating to have his way. In an electrifying union, the two cowboys can't bring themselves to share a kiss, but make love like animals, compulsively, painfully, unable to help themselves.
Morning dawns, and Ennis is compelled to draw boundaries: 'I figure we got a one-shot deal going on here.' Jack not as willing, suggests, 'it's nobody's business but ours.' Ennis, tempted yet overcompensating, voices his fear: 'You know I ain't queer.' Jack, immediately responds: 'Neither am I.'
But despite these macho declarations of denial and heterosexuality, the boys cannot stay away. Giving coyotes a meal by ignoring the sheep they are meant to watch over, the next night brings forth awkward kissing and startlingly tender cuddling. These are two men in love, and, as most of us know, this is an irrevocable, helpless path to be on. They leave the mountain behind, but it becomes a simple metaphor for idyll, a place where anything is possible, and is constantly revisited.
That's the extraordinary thing about Brokeback Mountain: despite it being a tale of two men in a very specific situation – they are, as the infuriating dismissal of the film says, gay cowboys; they do live in a time and a place where homosexuality is considered a cardinal sin; and they balance their clandestine true lives with normal marriages and kids – it is an unbelievably universal story about love and longing.
Even while we cannot picture ourselves in the troubled boots of the protagonists, we end up empathising: we can relate to the fact that only one of them (Jack, in this case) always makes the effort, travelling many a mile to set up a rare, never-quite-enough liason; we understand perfectly why Ennis can't forsake his increasingly painful marriage to be with his love. It all resonates within us, the director making us relive our most personal life decisions, regrets, and wistful dreams, all through the story of these two men.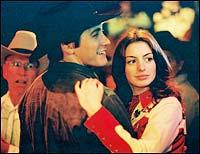 And then, there are their wives. Michelle Williams and Anne Hathaway play the two unfortunate women married to these two cowboys who frequently go fishing together but always return with their fishing lines dry and nary a sign of quarry. These are strong performances, especially by Williams, who plays Ennis' wife Alma, who has to go through the slow, helpless heartbreak of stumbling upon her husband's unbelievable betrayal. Hathaway plays a perky, rich wife who eventually turns visibly colder, more jaded and more blonde, her character realising its true potential when the end becomes heartbreakingly, suitably reminiscent of Dennis Hopper's counterculture film, Easy Rider.
Ang Lee is a director of great contrast. Defiant of genre and content, he has given us films of varying quality and sensitivity: Eat Drink Man Woman, Sense And Sensibility, Crouching Tiger Hidden Dragon and The Hulk. With Brokeback Mountain, propelled by its performances and magical in the simple empathy it evokes, he has crafted a truly beautiful tragedy. This is, quite simply, one of the finest love stories in recent Hollywood years.
As Jack breathlessly tells Ennis after a rampant night spent in a seedy motel, 'That ol' Brokeback got us good.' Yes, Jack, it sure did.
Want to see this movie? Check out Rediff Movie Tickets!


What do you think about the story?








Read what others have to say:





Number of User Comments: 10








Sub: Help me with this!!!

What was the final words heath ledger says at the very end of the movie when he looking at the 2 shirts hangin up and ...


Posted by cindy









Sub: Hard for people in India to accept or embrace same-sex relations

Readers have been very vocal. Can you not respect a person for what he is. He likes guys, so unless he is after you what ...


Posted by Chandra









Sub: pervertism has become the flavor of the season

somebody might make a movie on bestiality and then maybe someone might call it love, please is pervertism being given a new name?


Posted by justin









Sub: Raja Sen

Why rediff still employs Raja Sen, is what I cannot understand. It's just that he has lost all credibility in my eyes after that disasterous ...


Posted by Rajiv









Sub: pervertism is becoming the flavor of the season

now a gay movie has won an oscar maybe next a movie made on bestiality will win an oscar there's no saying to hwat lengths ...


Posted by justin






Disclaimer