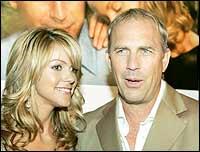 Kevin Costner, who tied the knot with Christine Baumgartner in September last year, has admitted he had no idea how he was going to propose to her. Until the The Upside Of Anger star's daughter Lily, 18, stepped in.
'I told Lily I was gonna ask her [Baumgartner], and she thought that was really great, and it's been great how the kids have received her.
'When I told her I was gonna do it, and she started asking me, 'Well, did you get the flowers?' I said,  'No.' 'Did you get the candles?' 'No.' I hadn't really thought this through completely, and that's what's been great about how they received us.
'So Lily told me exactly what to do, and I went and did it,' Costner was quoted as saying by Contactmusic.com. 'I was directed!'
Photograph: Vince Bucci/Getty Images