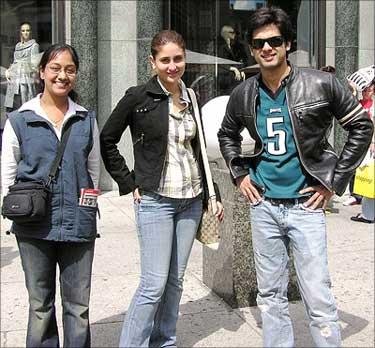 Reader
Pragya Jain
got a great birthday surprise when she bumped into
Kareena Kapoor
and
Shahid Kapur
near St Stephen's Cathedral in Vienna in August.
The star couple were touring Austria.
When Pragya requested a picture, they agreed hesitantly. But, as Pragya realised later, the two barely spoke. They remained polite as Pragya did all the talking. Her husband Chirag clicked the picture.
If you encounter/meet/see film or television personalities and photograph them, please scan the photographs and mail the pictures to us. We will feature the best images right here on Rediff Movies.
Also check out: Other Stars Readers Spotted