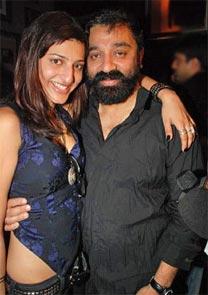 After the stalking incident involving his actress-singer daughter Shruti, Kamal Haasan is a concerned man.

"Of course Shruti's safety is my primary concern. I am surprised when I am asked if I am worried. Which parent wouldn't be worried about their daughter's safety?

"I panicked when I got a series of messages on Tuesday inquiring about Shruti's well being. I had no clue what had happened," the veteran actor says.

But panic soon gave way to a sense of relief when the stalker was arrested.

"It could've been much worse. In 1994, she rang me up and told me between sobs that she had burnt her face. When I rushed home, I found out that she had spilt boiling milk on her face but fortunately, her hair had taken the heat. I think Shruti learnt to be tough
at a young age," Haasan added.
A vocal champion of human rights, Haasan doesn't think capital punishment is the solution for violence against women.
"I said it when the
Nirbhaya
incident happened. I still maintain that killing or even emasculating the perpetrator is not the solution.
"We need to make our women stronger, more confident of their space. There has to be gender senstisation in every household. Why are male children taught to be aggressive fighters while girls must be docile, fragile and obedient? The middle class mindset must change," he reasons.
Haasan also addresses the issue of glorifying rape in films and believes that existing rape laws don't need amendment as much as rational application.
"There is a move to make 15 years the age of consent for girls. Fifteen!!! My mother got married at the age of 12 . That was eight decades ago. So we've only made three years' progress in 80 years," Haasan adds wistfully.