Is Chandni Chowk to China sending a not-too-subtle message about Indian superiority over China?
'In a film impressed with Chinese gadgetry... and with scenes set in the sleek urban landscape of Shanghai,' reviewer Rachel Saltz wrote in The New York Times, 'it's hard not to see a broader point: India. Don't be afraid of China's accomplishments. Be yourself. You will succeed.'
Saltz was referring to the film's climax in which Sidhu (Akshay Kumar), after having slogged at learning the Chinese martial arts, discovers that his expertise in chopping vegetables in a small Indian restaurant is more useful in defeating the villain.
The film, which attracted more mainstream reviewers than other big budgeted Bollywood films in recent years, repulsed some reviewers and entertained quite a few.
Can American audiences accept an action hero who talks to potatoes, wondered The Boston Globe and went to write about Akshay Kumar: 'He laughs, he cries, he sings, he dances, he kickboxes, he talks to his potato -- what more could you want from a Bollywood leading man?'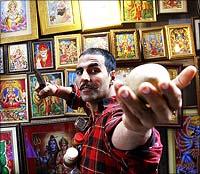 Don't expect another Slumdog Millionaire, warned The Globe. The Star-Ledger in New Jersey gave the film two stars (out of four) and called it a pu pu platter of curry mess in Bollywood. Complaining that Akshay overacts, the review said: 'He is like a mango pickle -- a little goes a long way -- and the film slathers him all over everything.'
In London, James Christopher, lashed out at the film in The Times online, giving it two stars of five. 'The first Bollywood kung fu action comedy sounds like a piece of genius,' he argued. 'And (director Nikhil) Advani's musical might have worked if it were not so slavishly absurd.'
In the Indian corner is Kumar, he continued is 'India's irritating answer to Adam Sandler.' After briefly discussing the plot of the film, he added: 'It's perfectly impossible to work out who might enjoy this lurid mix of cartoon slapstick and ghastly sentiment. But the model Padukone looks ravishing throughout.'
But there were some who embraced the corny stuff in the film.
Giving it three stars (out of five), Frank Lovece wrote in Newsday: 'Less a Bollywood bonbon than a pan-Asian fusion dish, this combination of Indian musical and Chinese chopsocky is, nonetheless, delicious fun.'
The movie opened to decent but unspectacular $650,000 over the weekend.
'One big period number stops briefly midsong. The hero slips on a banana peel and asks who left it there, then segues into an over-the-top martial arts espionage-action movie with a Bond Girl-plus babe playing long-lost twin sisters. Is there anything there that doesn't sound fun?'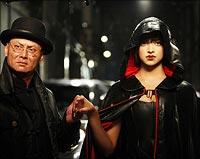 Nikhil Advani had said before the film's release that the film was an out-and-out Akshay Kumar film, but many would admire Deepika's twin roles. Lovece and several others did take notice of the young actress: 'Deepika Padukone is the biggest surprise, playing model Sakhi and her sister, Suzy, aka the femme fatale Meow Meow, so ably, you'd think they were two actresses.'
Toronto Star was quite generous to the film, giving it three stars out of four. 'Cinematic gene-splicing can yield some very weird mutations,' the review said. 'But even after taking into account Indian cinema's reputation for lavish excess and the martial arts genre's ever-escalating taste for frenzied action, the first-ever Bollywood kung fu comedy qualifies as deliriously and endearingly bizarre. Gravity-defying combat, absurd musical numbers, inane slapstick, Bond-like gadgets, an amnesia subplot, a potato imprinted with the face of Lord Ganesh -- yes, there's room for everything within Chandni Chowk to China's running time of 153 minutes.'
It's no
Slumdog
but it's good Bollywood fun, wrote Stephen Cole in
The Globe
and
Mail
. '
CC2C
is unadulterated Bollywood,' he explained. 'It's a movie for the sensation-hungry mob. Kumar overacts, shamelessly mugging and weeping. In fact, at two hours and 34 minutes,
CC2C
is too much by a half: too much dancing and fighting and too much footage of the Great Wall of China. It does, however, have a vulgar energy and many of the jokes work.'