'As an actor, it is my responsibility to play my character to perfection. For that, sometimes I will have to get physical changes. When it is required, I do it. I will do it even in future if it is required.'
'I know that can affect my health but I don't think much about that. When I try to portray a character, I go with the flow. I think about only that and not my health.'
Aamir Khan gets candid on his birthday.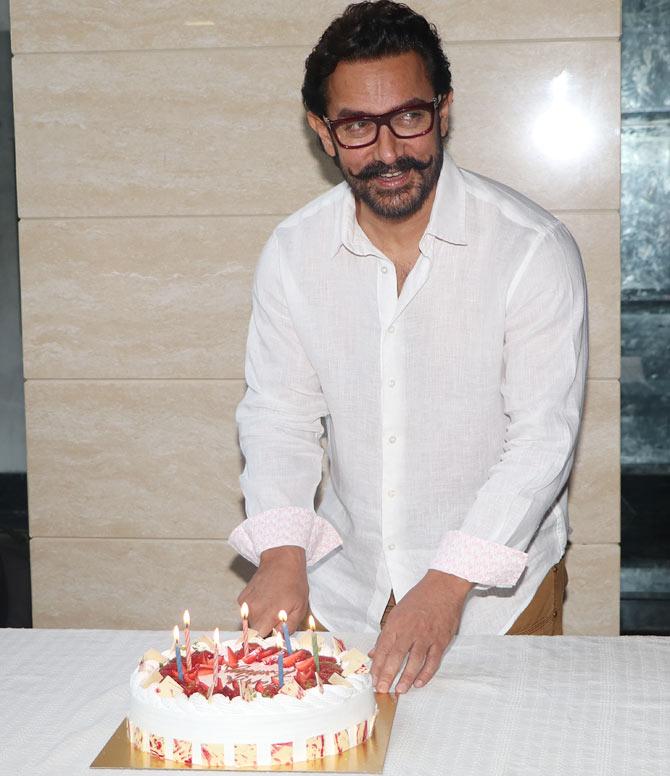 The long beard is gone.
But the moustache game is still going strong.
Aamir Khan looks leaner, fitter and younger on his 52nd birthday on March 14. In fact, he seems to be aging backwards like the Curious Case Of Benjamin Button!
"What is important is how you feel in your head. I think if you feel happy about yourself and life, it doesn't matter what your age is," Aamir explains.
A cake from the Taj Lands End hotel waits for the superstar, as he invites the media over on his birthday. Everyone assembles in the parking lot of his posh building in Bandra, a western suburb of Mumbai.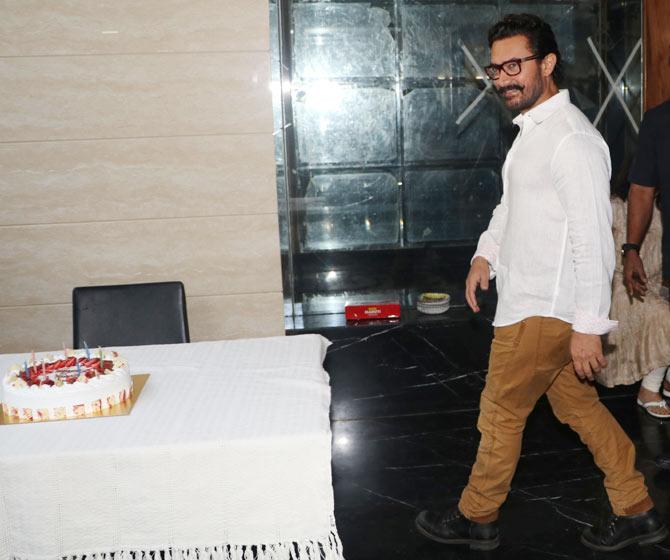 So what did Aamir do when the clock struck 12 on his birthday? "At around 10:30 or 11:00 pm, I was reading a book. After 15-20 minutes, I slept. I didn't do anything special at midnight," Aamir says.
Aamir hasn't received any gifts as yet but there is one gift he's sure of getting: his mother's signature dish. "I love the seekh kababs she makes," Aamir says. "She makes it every year for me, including this year."
The actor will celebrate his birthday with his family. "This year, the family has become a little bigger. I am happy that Geeta, Babita and Mahavirji (Phogat) will also be there to share the happiness. My friends and family will be there," he says.
Dangal has broken records and is one of the best loved movies in recent times. "I am happy that a film made by the entire Dangal team has got so much love from the audience," he gushes.
Dangal marked the debut of four girls -- Sanya Malhotra, Fatima Sana Shaikh, Zaira Wasim and Suhani Bhatnagar. Will Aamir counsel them on their careers? "I hope not," he replies. "All four of them are very talented, bright and intelligent girls. I don't think they need my advice. If they do, I am always there for them."
Zaira has already been roped in Aamir's next production called Secret Superstar.
"I don't think of (box office) numbers when I sign a film," Aamir says, "When the script excites me, I want to do that. I am more interested in what I am going to be doing. That journey is more important."


Aamir celebrates his birthday! Video: Afsar Dayatar/Rediff.com
Aamir had undergone drastic physically transformation for his character in Dangal. "As an actor, it is my responsibility to play my character to perfection. For that, sometimes I will have to get physical changes. When it is required, I do it. I will do it even in future if it is required," he says, adding, "I know that can affect my health but I don't think much about that. When I try to portray a character, I go with the flow. I think about only that and not my health."
Aamir will start shooting for his next film Thugs of Hindostan in June. That's the only film on his plate right now.
"I am going to harass Victor (Vijay Krishna Acharya, director of Thugs of Hindostan) a lot," he says with a laugh.
"I have been a huge fan of Amitji (Amitabh Bachchan) all my life. Thugs of Hindostan will be the first time I will be working with him," Aamir says. "I am excited because of the kind of artist he is. I will get to learn a lot."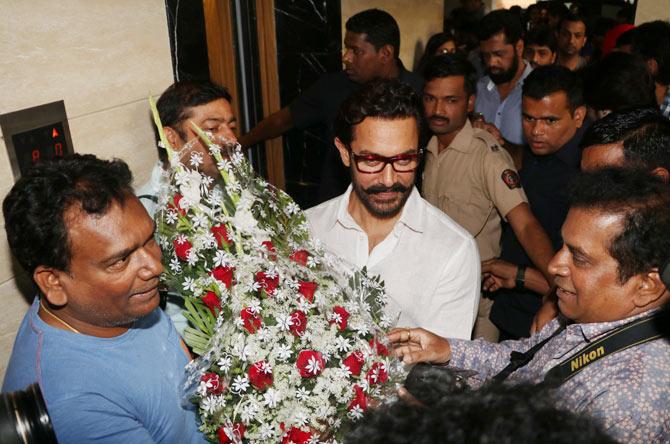 Recently, Aamir had visited Shah Rukh Khan and their pictures together were circulated on the social media. Do we see them working together? "I have met Shah Rukh twice in the past one or two months -- once at Ajay Bijli's birthday and recently, he had called me to his place for a get-together. We meet just as friends. We haven't discussed work," he says.
With the Kangana Ranaut-Karan Johar controversy taking centrestage in Bollywood discussions, Aamir gives us his take on nepotism: "It is a very normal human tendency to help people whom you love and care for. It doesn't necessarily have to be someone from your family. I try to make sure that it does not interfere in my work. My responsibility, as a creative person, is towards the audience and that is what I consider the most important. I try not to bring in emotions in my work."
Aamir explains why his television show Satyamev Jayate hasn't come up with its fourth season yet after 2014: "My Satyamev Jayate team is working on the drought problem in Maharashtra and that's why it's delayed. The Round 2 of the Satyamev Jayate Water Cup is on. This year, we have trained 10,000 for the work and we are working in 30 talukas."
See pictures of the Toofan Aala launch here
Photographs: Hitesh Harisinghani/Rediff.com