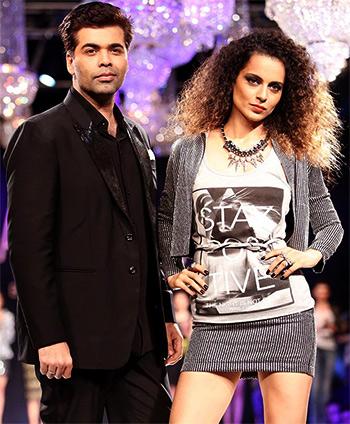 Battle of the sexes: Karan Johar vs Kangana Ranaut!
After Hrithik Roshan, Kangana Ranaut has picked a fight with yet another film personality.
The actress had appeared on Karan Johar's talk show Koffee With Karan, where she called him the 'flag-bearer of nepotism'.
She said Johar would be perfect to play the role of a 'stereotypical Bollywood biggie, who is snooty and completely intolerant to outsiders, the flag-bearer of nepotism, the movie mafia' in her biopic, if it is ever made.
KJo, at that time, did not respond to Kangana's allegations.
Recently, though, during a session with Anupama Chopra at the London School of Economics, India Forum, Johar said, 'You cannot be this victim at every given point of time, who has this sad story to tell about how she has been terrorised by 'bad Bollywood'. If it is that way, then leave.'
He also said he had given her a platform to air her views and was gracious enough not to edit it out of the show. (To read what else Karan Johar said, do click here).
Now, in an interview to Mumbai Mirror, Kangana has reacted to Karan's statements.
'Why is Karan Johar trying to shame a woman for being a woman? What is this about the 'woman card' and the 'victim card'? This kind of talk is demeaning to all women, particularly the vulnerable because they are the ones who really need to use them,' she said.
'I can't speak for Karan Johar's understanding of nepotism. If he thinks that it is restricted to nephews, daughters and cousins, I have nothing to say. But to say that he chose not to give me work is to mock an artiste. As importantly, his memory appears to be poor because we worked together in a movie (Ungli), which was produced by him. And quickly realised our sensibilities did not match,' she said.
'I'm also at a loss to understand how he gave me a platform by inviting me to be on his show. I've been on several platforms before with several global icons. To say he helped me voice my opinions is to discredit me as an artiste and a public personality. And I think it should be added here that I was invited to be a part of the show in its fifth season,' she said.
What do you think about the Karan-Kangana war of words? Write in the message board below!
Photograph: Pradeep Bandekar