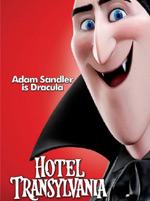 The No. 1 film in the world this weekend offers a radically different image of the bloodthirsty Count Dracula and presents him as an over protective father surrounded by colourful monsters in the hotel he runs.
A big success with kids and families at the recent Toronto International Film Festival where it was greeted with nonstop delighted screams from the kids, the animated adventure
Hotel Transylvania,
grossed an impressive $51 million even though it is showing only in a handful of countries and will be expanding rapidly from next week onwards.
It was No 1 in North America from where the bulk of its gross came. It surprised industry observers, who were expecting just about a $35 million gross, by grabbing $43 million. The word of mouth was surely a big factor in boosting the film's appeal.
The film's big success is also a triumph for Adam Sandler, whose last two films
Jack and Jill
and
That's My Boy
were big disappointments and lost quite a few millions. He voices Dracula in the new film which is full of slapstick humour and oddball characters.
At
Hotel Transylvania
, Dracula's five-stake resort, monsters and their families can live it up. Here monsters are free to be themselves and have fun without humans to bother them.
One weekend, Dracula invites some of the world's most famous monsters—Frankenstein and his bride, the Mummy, the Invisible Man, a family of werewolves etc—to celebrate his daughter Mavis's birthday.
Catering to the legendary monsters, including the big bad wolf (Steve Buscemi), Frankenstein (Kevin James) and nagging wife Eunice (Fran Drescher) is something Dracula enjoys.
But then comes the shock: one ordinary guy, a backpacker, Jonathan (Andy Samberg), stumbles on the hotel and falls for Mavis (Selena Gomez).
Dracula thinks he can buy some time and changes his plans to get rid of Jonathan when he realises how hurt his daughter would be with his extreme action.
He dresses Jonathan up like a member of the Frankenstein clan and
passes him off as a party planner.
Apart from slapstick comedy and wonderful voicing, the film also offers many visual thrills. The oddball characters come alive in the peculiar hotel setting where each room has a shrunken voodoo talking head on the doorknob. And witches on broomsticks keep the hotel clean.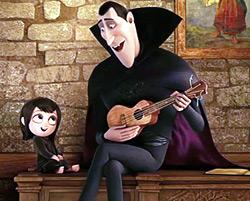 It was obvious the film was going to be a smash hit, not just because of the reaction of the kids at TIFF but also the early reviews it received.
'Every movie monster ever imagined seems to have been included in this tale from Sony Pictures Animation,' wrote
The Toronto Star
. 'That means adults as well as older kids — say 12 and up — can share the fun in this wacky, fast-paced story about a vampire who presides over a hotel resort for monsters, with zombie bellhops and witches with broomsticks as maids, as he tries to protect his daughter from the dangerous world outside — dangerous to monsters at least. The 3D effects are dizzying at times but marvellous, and the wit and zaniness is maintained throughout.'
This is the first feature film of Emmy winner Genndy Tartakovsky who made a reputation with Cartoon Network's
Dexter's Laboratory, The Powerpuff Girls
and
Samurai Jack.


Tartakovsky, who won Emmys for his work on
Star Wars: Clone Wars
and
Samurai Jack,
said in an interview in Toronto that the leap from television was not as daunting as he expected.
'The biggest thing, thank God, is that I had so much experience making so many mistakes in telling jokes,' he told
Plain Deal.


'Feature animation is brutal. You have this huge budget and all this pressure. But once I knew what I wanted to do storytelling-wise, and performance-wise, it was not a problem.'
The director, who grew up in Russia devouring Warner Bros cartoons and continued his passion for them starting with his teen years in America, had a clear vision for his first feature film.
'We were very clear from the beginning. We wanted to make a funny movie with monsters, as opposed to a funny scary movie.'