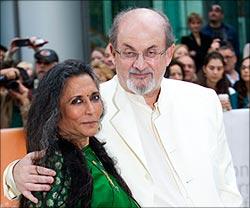 It has happened so many times. A long-awaited movie adaptation of a beloved classic is finally made, and the cynics who thought the book was unfilmable are proved right.
It happened a few years ago with Gabriel Maria Marquez's
Love in the Time of Cholera
. It happened again when the adaptation of Salman Rushdie's
Midnight's Children
was unveiled at the Telluride Film Festival in Colorado, and soon after at the Toronto International Film Festival.
The story about the intertwined fate of two young men, who were exchanged at birth, unfolds against some of the most tumultuous events of the last century in the subcontinent. The winner of two Booker Prizes, the novel that has been translated into more than two dozen languages was finally made into a film thanks to the friendship between author Rushdie and Toronto-based filmmaker Deepa Mehta.
Rushdie, who also serves as the film's narrator, is one of the executive producers and wrote the screenplay while giving Mehta a free hand in visualizing his script.
The film almost soars in the first half. But as we meet Salim Sinai, one of the exchanged boys who hears 'voices' and talks to other children born the time of India's Independence, it begins to lose momentum.
Mehta, maker of the Oscar-nominated
Water,
is a courageous filmmaker. She has set some of her films against calamitous events, but in this case, the stories that play in the middle of momentous events, including the birth of Bangladesh and internal Emergency in India, come out as bloodless and without passion.
Perhaps Rushdie knew what was coming. At last year's TIFF during a well-attended work in progress discussion with Mehta, he said talking to the audience that whatever would be the fate of the film, people would at least appreciate the performances.
And wonderful performances are plenty in the film. Whether it is veteran Shabana Azmi as the matriarch or Shahana Goswami as the dutiful mother who seeks to rebel when a terrible family secret is revealed, there is no shortage of telling performances.
But Satya Baba, a Yale acting grad who began with the experimental theatre in New York a few years ago, is a major let down. He is wooden for most of the time. Whether he is betraying a deep secret to his sister (Soha Ali Khan) or wonders loud on the futility of war between Pakistan and India, he remains unimpressive. Having come to know his character through the sonorous and witty narration by Rushdie, we are disappointed when we see Salim Sinai in flesh and blood.
The cast includes Anupam Kher, Seema Biswas, Rahul Bose, Charles Dance, Shriya Saran and Siddharth.
At the public conversation between Mehta and Rushdie at last year's TIFF, the two discussed the difficulty in getting stars for the film. It was believed that Rani Mukerji was approached, but backed out when she realised she had to play a younger woman and take her journey in her older years.
"It didn't work out, so we opted to cast actors that were right rather than those that were big," Mehta said.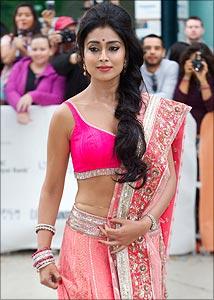 Uneven pacing and passionless narration could be the two most important reasons the film remained unsold to America at TIFF. Though it is being released in Canada in November after it travels to a handful of Canadian film festivals, without a good American release, it may find it difficult to recoup its $12 million production cost. Mehta's Water was released in America by Fox and went on to earn a commendable $3.5 million (for a low budget film).
Most of the reviews at TIFF were not helpful to the new Mehta saga.
'Thanks to Rushdie's own screenplay, and Deepa Mehta's direction, Midnight's Children is now a film -- it's just not an especially good film,' The Globe and Mail wrote.
The Hollywood Reporter didn't find it 'dramatically satisfying.'
The film got a warm applause at the public screening, but many times films applauded by festival audience, who are often star struck, fizzle out when they go wide.
A few years ago What Is My Rashee? got a houseful welcome at TIFF and received applause from over 1,000 people. Released within a month, the film mimicked its fate in India and flopped big time in Canada and America. But at least that film had a distributor.
Fight to film
Deepa Mehta and Salman Rushdie flare up controversies in India, albeit from different quarters. When she was forced to abandon the Water shoot in India by Hindu fundamentalists, she waited for a year or two and quietly shot the film in Sri Lanka.
Sri Lanka was also the locale for Midnight's Children, though the story is set in undivided India, and then the emerging Pakistan and India.
Rushdie has written over two dozen novels, many of them well acclaimed, but none is as popular, as well regarded and as mesmerizing as Midnight's Children, one of his earliest books. There are reports that Iran, the country that put the infamous fatwa against Rushdie for writing the 'blasphemous' Satanic Verses, sought to stop the shoot of Midnight's Children -- the first Rushdie novel to be filmed -- even though it has nothing obviously controversial about Islam.
Mehta said she had heard but was not sure if it was true that the Iranian foreign minister had called the Sri Lankan ambassador to stop the filming.
But unlike in the 1990s, there were no impediments this time. Then the British Broadcasting Corporation had to abandon a five-part miniseries out of Midnight's Children when the Sri Lankan government sought changes in the script and finally revoked permission to shoot.
In a way, it was a blessing, Rushdie has said, for the script he wrote for Mehta is definitely better and distills the book's essential themes and plots.
The two, friends for nearly two decades, did not interfere in each other's work, though a few jungle scenes in the script that Rushdie loved, reportedly had to be removed from the shooting schedule due to escalating costs.
Admirers of the book, who may want to go back and enjoy it for its beautiful plot and ironic plot twists, might wish there were some real fights between the author and the director resulting in a more pulsating, vivid and stirring film.
Photograph: Fred Thornhill / Reuters