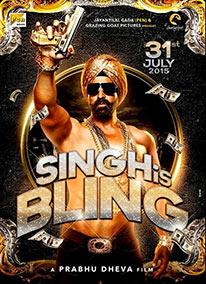 Singh is Bling script undergoes a change, heroine's role altered
Eyebrows were raised when the relatively new Kriti Sanon was chosen to play the lead actress Akshay Kumar's latest film, Singh Is Bling.
For a newcomer who has just done one Hindi film, Heropanti (and some South Indian films), that was quite a break.
Curiously, the role had earlier been offered to the A-lister Kareena Kapoor.
So what made Kriti eligible?
We now understand that the script has undergone some changes.
"Earlier, there was a lot more for the heroine to do," explains the film's director Prabhu Dheva. "Now the plot is far more a guy's saga. It was always Akshay Kumar's story, but there was a lot more for the leading lady to do earlier. Now the script has been altered. There is less for the leading lady to do."
Asked about the rumoured alterations in the script, he added: "Yes, there have been some changes. But it was always the man's story."