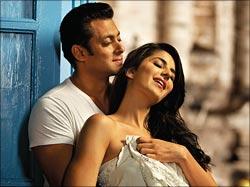 Salman Khan has once again proved that he is the undisputed king at the box office today.

His latest film Ek Tha Tiger, which released on August 15, has managed to rake in a whooping Rs 32.95 crores at the box office on the very first day.

As a result, the film has succeeded in beating Agneepath's record first day collections of Rs 25 crores, which was the biggest opening for a Hindi film until now.

Media professional and industry observer Abhijit Mhamunkar confirms: "The opening day collections of Ek Tha Tiger is Rs 32.95 crores. It has set a new first day record."

Director Kabir Khan was ecstatic with the numbers. "We very happy," he gushes over the phone. "It's a mind-boggling opening. I never predicted any figures but

this is beyond belief. I am happy that people have loved the film."

The director claimed he was not competing with any other film. "I am not comparing my film's box office collections with any other film's. We are sitting on a good amount. I am sure this good run will continue at the box office."

Earlier this year, Agneepath had toppled Salman Khan's earlier blockbuster Bodyguard, which had collected Rs 21 crores on the first day of its release.

Mhamunkar adds, "The film was obviously going to take a big opening but it has surpassed everyone's expectations."

Ek Tha Tiger opened in 3,300 screens with almost 100 per cent occupany as compared to Agneepath, which opened in 2,700 screens with a 95-100 per cent occupancy.

One of the major reasons for such a huge first day collections was the increase in ticket prices. "The prices of the tickets have, on average, been increased by Rs 20. This has played an instrumental part in adding to the box office collections. The price rise has contributed to 20 per cent of the total collection," Mhamunkar says.

Be it single screen or multiplexes, the advance booking for the film has been incredible. It will be interesting to see how soon the film reaches the Rs 100 crore mark.