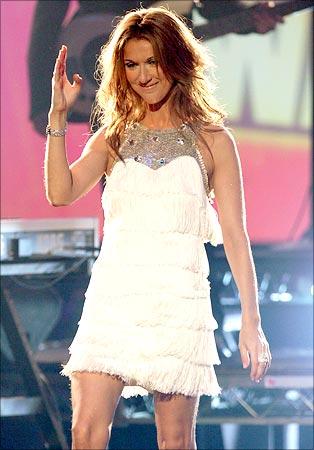 Celine Dion is back with a new album. And unlike her previous albums, Taking Chances is edgy.
Maybe it has something to do with growing older and becoming stronger. 'It's me, who I am today. I grew. I didn't change. I evolved, which is different,' she said in an interview to The Guardian.
The five-time Grammy Award winner who gave us My Heart Will Go On from the blockbuster Titanic has teamed up with producer Linda Perry (the vocalist of the band 4 Non Blondes) for the new album.
One of her songs from the new album, That's Just The Woman In Me, is an example of an evolved Celine at 39.
She has evolved from a 20-something artist who struggled to prove herself in the world of music to a respected name selling more records than any other woman.
Her five-year residency at Caesars Palace in Las Vegas too has made her a richer woman by £125 million and has also garnered her respect. Those who have seen the show include Justin Timberlake, Ice-T, Britney Spears and goth rock guitarist Ben Moody of Evanescence.
And after achieving what she set her heart out for, Celine is now just wants peace and time with her family -- husband Rene Angelil and seven-year old son, Rene Charles.
As she said to The Guardian, 'In the beginning, I needed to prove myself to the industry. Not any more. I'm doing this for fun.'
Photograph: Ethan Miller/Getty Images