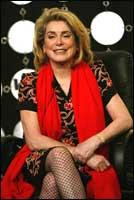 Catherine Deneuve, one of the grand dames of French cinema, is 'shattered', a report in The Telegraph, London, said.
In an otherwise faultless career, the 60 year-old actress, famed for her femme fatale roles, has come in for scathing reviews for her diaries, which will be published next week.
Deneuve was the model for Marianne, the symbol of the French Republic seen on French coins and stamps. Before her the model was sex symbol Brigitte Bardot. Deneuve was also long famed as fashion designer Yves Saint Laurent's muse.
A L'ombre de Moi-meme (In My Shadow), a collection of personal thoughts from the sets of six of Deneuve's films, marks the first time that the actress will air her private life in a 40 year career.
Early reviews have been harsh, saying the 'syrupy, banal' diaries 'make Marilyn Monroe look like an intellectual'.
An anonymous reviewer in Le Figaro said, 'From the very first lines, the legend is shattered,' adding, 'She, who we had every right to consider intelligent, cultured, with a forceful character, good judgement, lofty views and finesse, comes across as a 16 year-old schoolgirl, with a syrupy style and the same view of the world and the film set as any top model from the Elite agency.'
The review goes on to list the inanities of the diaries: from Deneuve missing a flight and stealing a rubbish bin; from ordering 'real champagne that doesn't resemble pee and has bubbles' and buying nylon stockings with a seam to her views about New Yorkers on Broadway as 'bizarre people, indecent and obese'.
To be fair, the actress prefaces her book with: 'Get ready for very little.'
Le Nouvel Observateur said, 'The emotion is between the lines, in the silences,' adding that there is no point in looking for 'juicy, backstage gossip'.
Laure Adler, France Culture radio station head, remarked about Deneuve's 'instinct for freedom and hunger for existence'. France Culture will air interviews with Deneuve next week.
'The criticism I've seen smacks of a vendetta,' The Telegraph quoted Adler as saying. 'Okay, so it's not Shakespeare. But she never intended it to be a polished work. It is a document of fragmentary, uncensored thoughts of a fragile actress constantly questioning herself and searching for the truth.'
Meanwhile, Deneuve admitted to 'feeling something like a panic' about her work being published. 'If I had known that these notebooks would one day be published, I would never have written them. The problem with a book is that you never know who will get their hands on it.'
Photograph: Getty Images