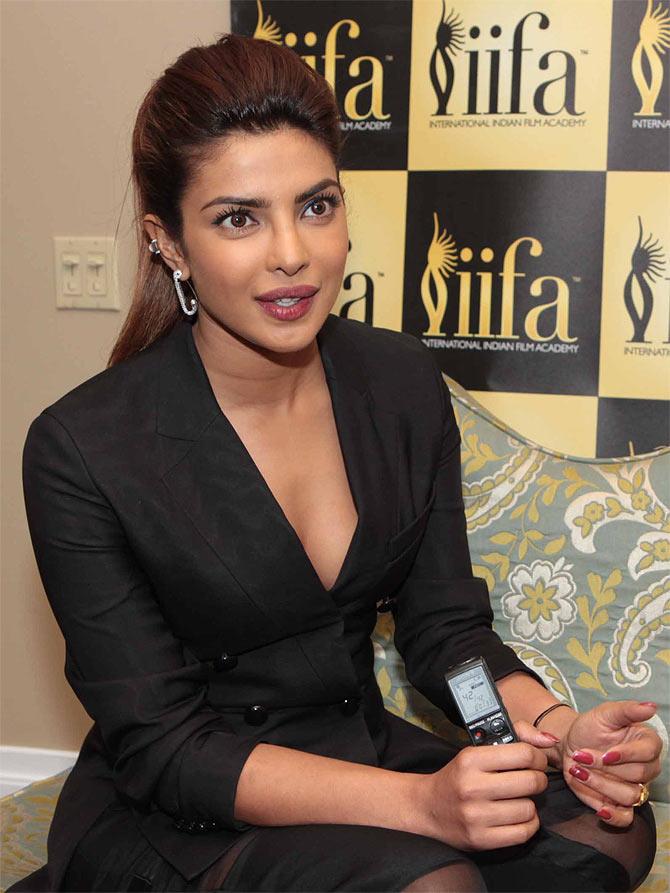 Syed Firdaus Ashraf/Rediff.com on Priyanka Chopra's appointment as a brand ambassador for India, despite her frankness on intolerant India.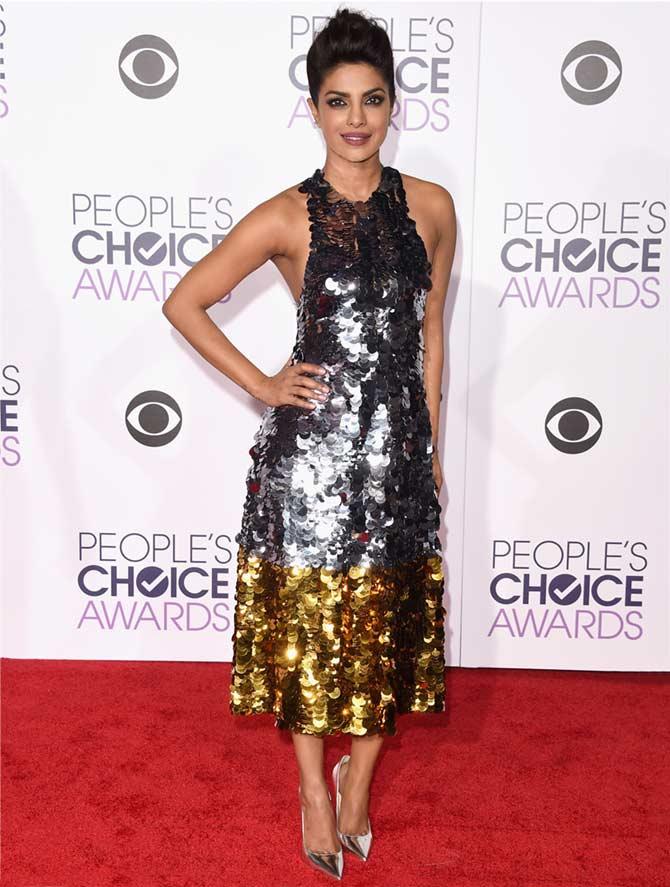 IMAGE: Priyanka Chopra looks picture perfect in American designer Vera Wang's glittery silver and gold outfit at the People's Choice Awards. Photograph: Jason Merritt/Getty Image
Amitabh Kant, the senior bureaucrat behind the Incredible India campaign, rued a couple of days ago that actor Aamir Khan's 'intolerance comment' had affected Brand India.
'If the brand ambassador of India says India is intolerant, he is surely not working as a brand ambassador of India,' Amitabh Kant said on Tuesday, January 19, in apparent justification for why the actor was removed as India's brand ambassador.
Never mind that Aamir Khan never made the comments attributed to him.
All he had said at a conclave organised by the Indian Express newspaper in November 2015 was: 'Kiran (his wife, director Kiran Rao) and I have lived all our lives in India. For the first time, she said, should we move out of India? That's a disastrous and big statement for Kiran to make to me. She fears for her child. She fears about what the atmosphere around us will be. She feels scared to open the newspapers everyday. That does indicate that there is a sense of growing disquiet.'
This remark, it was felt by officialdom, affected India's image deeply.
On Thursday, January 21, India got two new brand ambassadors, actors Amitabh Bachchan and Priyanka Chopra.
While Bachchan has rarely if ever said anything out of line, it is interesting to see what Priyanka Chopra, currently riding a wave following her award-winning Quantico outing and reports of starring in the next instalment of the madly popular franchise Baywatch, had to say about India as recently as December 2015.
That was the time when Sanjay Leela Bhansali's Bajirao Mastani, in which the actress played Kashibhai, Bajirao's wife, was facing protests from various quarters and the Censor Board had been petitioned to ban the film.
Distraught at the protests, Priyanka Chopra posted this on her Twitter account on December 17.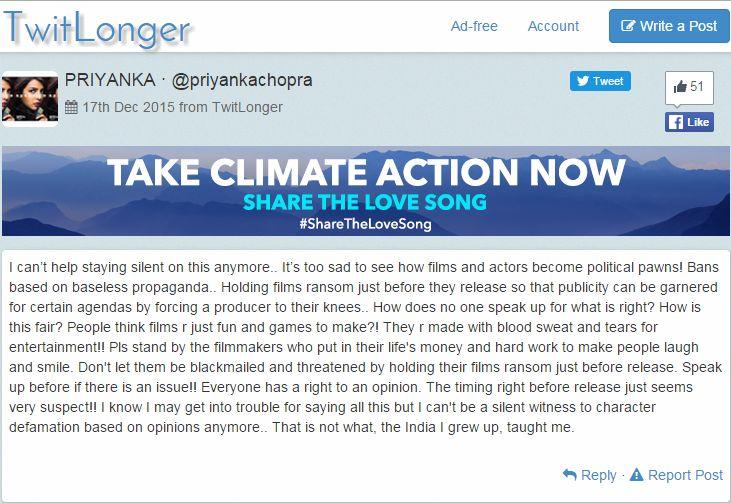 In an interview to NDTV soon after the post, she said:
'Don't hold films to ransom before its release. Talk about it after the release. Again, I will get into trouble by saying this I will stand by actors and artists in general. If you are talking about democracy and saying were are living in a democracy, then if you can have opinion then let me have one.'
'I was scared even when I wrote that (on Twitter). I know I would get into trouble for saying this, but this is not the India that I grew up in. I was taught Hindu-Muslim-Sikh-Isai Bhai Bhai every day in my assembly. And what is happening? Based on religion, we are dividing people.'
We wonder if Amitabh Kant, and his political bosses, saw the NDTV video and Pee Cee's tweet. And if they haven't, will they now do an Aamir on Priyanka?