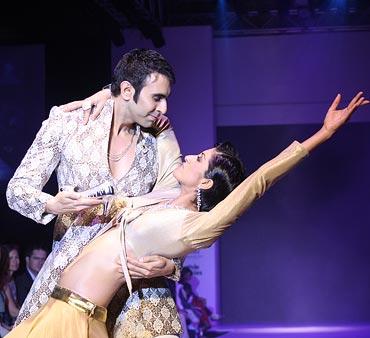 Indian choreographer Sandip Soparrkar will perform at the London reception of UK's Prince William and Kate Middleton.

Soparrkar will perform with his wif, model Jesse Randhawa, at the reception which will be attended by 600 of the world's most high profile leaders and celebrities, said sources close to the dancing couple.
"They received an enquiry about performing at the reception of Will and Kate and after discussing the price, it was confirmed that Sandip and Jesse will perform. The organisers wanted a combination of Bollywood and English Waltz," said the source.
The choreographer has already made a selection of 10 Bollywood numbers and the organisers will choose four songs from the repertoire for the performance.
"Bollywood is a big thing in the UK, thanks to the Indian diaspora and the performance will be the last dance. They wanted it to be a fun way to end the evening," added the source.

Soparrkar and Randhawa had earlier performed at popstar Katy Perry's Indian nuptials with British comedian Rusell Brand and at Madonna's 50th birthday party.
The royal wedding, to be held at the Westminister Abbey, will be a grand affair with a budget of 12 million pounds and sticking to royal protocol, about 200 political figures and 100 foreign royals and dignitaries have been asked.
Soparrkar will perform during most exclusive part of the day, a dinner dance hosted by Prince Charles, which according to reports, will be held at the Buckhingham Palace. The dancer had met the Prince of Wales when he visited the sets of Mangal Pandey in 2005 and had received a letter of recognition from the British royal for his work in promoting ballroom dancing in India.

Photograph: Hitesh Harisinghani