In the late 1990s, British-Indian filmmaker Bharat Nalluri thought he had it all -- a burgeoning Hollywood career and a line of action adventure movies to pick from. Miramax selected him to direct the third film in The Crow series -- The Crow: Salvation (2000) with Kristen Dunst. Unfortunately, the studio was not pleased with the final product, and the film was released straight on video and DVD.
Nalluri later found more work -- but as the second unit director on Resident Evil (2002) and AVP: Alien vs Predator (2004).  He felt that his star was on the decline and eventually, he left Hollywood and returned to London.
"I was lucky to go back to London," Nalluri, 43, says.
His latest film Miss Pettigrew Lives for a Day -- a delightful comedy set in London of the late 1930s -- just released in India last week. "I don't know what the definition of pigeon-holing is but I fell into that. Early in my career, I came to America and was lucky that I got these assignments. It was like being a kid in a candy store. I enjoyed that world, learnt a lot about cameras and action."
In UK, Nalluri directed episodes of television shows -- Spooks, Hustle and Life on Mars, until he landed the opportunity to direct a two-part HBO drama, Tsunami: The Aftermath with Toni Collette, Tim Roth and Chiwetel Ejiofor. The show earned him an Emmy nomination. Miss Pettigrew followed the Tsunami project.
Directing a comedy came with challenges. "Comedy is really hard, but the trick is to make it look very easy even though actually it is very, very difficult to do," Nalluri says. "One thing that makes one person laugh doesn't make another person laugh. Comedy does not have a universal language."
But Nalluri was blessed since Miss Pettigrew stars two of Hollywood's brightest female actors -- Frances McDormand (Oscar winning actress for Fargo) and Amy Adams (Oscar nominated for best supporting actress for Junebug).
"Amy is American in the film and I knew her work," he says. "She loved the script [co-written by David McGee of Finding Neverland, and Simon Beaofoy of The Full Monty] and we got along like a house on fire. I heard through the grapevine that Francis really liked the original book that this is based on and we sent her the script. I think she found the project and am I going to turn down Francis McDormand? I think not. People don't realise how difficult it was for her to do comic timing in an English accent. It was extraordinarily complex acting and she made it look very natural."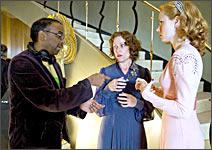 From the moment Adams and McDormand met, they developed a perfect chemistry he says. "They were really a double act, weren't they -- like Laurel and Hardy?" he asks. "The hardest part was stopping them from having such a good time. But there was this lightness and frothiness about them, which kind of shows up in the film." 
Nalluri was born in Guntur in Andhra Pradesh. He was six when his family left India and moved to North England, where his father taught engineering and his mother went to night school to learn accounting. He got into filmmaking by playing with his father's small camera. He had seen Star Wars and Hindi movies were playing at the Nalluri household all the time. So he began to imagine the world of filmmaking as a career choice. 
"Coming from a home with professional middle class parents, you don't go about saying 'Excuse me, I would like to direct a movie,'" Nalluri says. "When I told my dad that I want to be a director, he asked 'Doctor?'  'No, director.' They were eventually very supportive of me, but in the beginning, there was a huge leap of imagination."
Nalluri started doing odd jobs in television and then went to film school. He attended the Northern Film School in Leeds, mostly because he wanted to understand the history of cinema. 
Then Nalluri set out to make a film with a group of friends. They wrote a screenplay in one week and then raised money by approaching 10 Indian doctors and asking for donations of 5,000 pounds each. The film Killing Time (1998) -- a comedy-thriller, was shown at the Milano Film Festival. Later, Columbia Tristar bought it and released it on DVD and video. It became a cult hit. 
"It was La Femme Nikita with no money," Nalluri says, adding that the minor success made him believe that filmmaking was easy.
Nalluri has not worked on an Asian themed film, although writer and actor Meera Syal wanted him to direct a film based on her novel Life Isn't All Ha Ha Hee Hee. But Nalluri turned down the offer. For one thing, he was busy with another project.  But Nalluri also did not feel comfortable approaching Syal's novel.
"I think, as a South Indian boy in England, I would not know how to direct Meera Syal in a North Indian drama," he explains.  "I wouldn't know how to direct an Indian family from Punjab."
He has directed projects such as The Crow -- quite far removed from his personal life.  But the Life Isn't All... was different. "Being Indian, I suppose I was close to an immigrant story set in London and I wasn't sure if I would get her book right," he says. "I want to make a film around my family. One day, when I grow up as a filmmaker, I will make my Indian movie."