A few years ago, Shah Rukh Khan [ Images ] was quoted as saying, 'When a film flops, people come up with 85,000 excuses -- from the colour of the hero's socks to the cracks in the Great Wall of China.'
Likewise, when a film succeeds, the reasons offered are varied.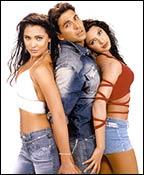 The success of Suneel Darshan's Andaaz (Akshay Kumar [ Images ], Priyanka Chopra [ Images ], Lara Dutta [ Images ]) is being attributed to the skin show by its leading ladies -- Chopra and Dutta.
Patna exhibitor Suman Sinha says he hasn't seen such a huge audience in two years. "The surprising thing is the strong presence of college-going girls and family audiences," he says.
Until now, sex and nudity were considered peripheral attractions in mainstream Hindi cinema. But the success of Andaaz legitimises it all.
Govind Menon's Khwahish, starring Mallika Sherawat, hits the screen on June 6. Sherawat first appeared in a brief role in Vashu Bhagnani's Jeena Sirf Merre Liye (Tusshar Kapoor [ Images ], Kareena Kapoor [ Images ]) under her original name, Reema Lambha.
The starlet is unabashed about her sexuality and equally verbose about the 17 kissing scenes in the film. Her co-star, Himanshu Malik, says, "Mallika is a girl of today. She is an actress, not a nun. Why should she be prudish about her body?"
But Mallika is not a trendsetter. In 2002, Isha Koppikar [ Images ] made a splash with her sexy item number, Khallas, in Ram Gopal Varma's [ Images ] Company (Ajay Devgan [ Images ], Manisha Koirala [ Images ], Vivek Oberoi [ Images ], Antara Mali [ Images ]). 
Koppikar's earlier films, Fiza (Karisma Kapoor, Hrithik Roshan [ Images ], Jaya Bachchan), Aamdani Atthani Kharcha Rupaiya (Govinda [ Images ], Juhi Chawla [ Images ], Chandrachur Singh, Tabu [ Images ], Vinay Anand), and Pyaar Ishq Aur Mohabbat (Suniel Shetty [ Images ], Aftab Shivdasani [ Images ], Arjun Rampal [ Images ], Kirti Reddy) -- had seen the actress in a more sober avatar.
But the minute she decided to shed some of her clothes, she was flooded with offers. After Khallas, Koppikar sizzled with Sanjay Dutt [ Images ] in Ishq samundar in Sanjay Gupta's Kaante (Amitabh Bachchan [ Images ], Shetty, Kumar Gaurav, Lucky Ali, Mahesh Manjrekar [ Images ]).
Next, she plays a sultry vamp in Qayamat (Devgan, Shetty, Sanjay Kapoor, Arbaaz Khan [ Images ]) and reprises Sharon Stone's [ Images ] role in Inteqaam (Manoj Bajpai [ Images ], Nethra Raghuraman), the desi remake of Basic Instinct [ Images ].
Even Sameera Reddy, who was coyness personified in her debut Maine Dil Tujhko Diya (Sohail Khan [ Images ]) sheds her inhibitions for a dance number in Ram Gopal Varma's Darna Mana Hai.
In Kaizad Gustad's underworld satire Boom, models Padma Lakshmi [ Images ], Madhu Sapre and Katrina Kaif [ Images ] vie for Amitabh Bachchan's attention in the skimpiest of outfits.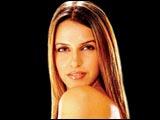 "Getting into bikinis or smooching the hero was considered a big deal until recently. Now the models and other camera-habituated girls do it as part of a day's job. Priyanka Chopra strips and smooches in Andaaz. Mallika Sherawat [ Images ] goes many steps further in Khwahish. Where is this new feminine promiscuousness going to stop?" wonders the Na Tum Jaano Na Hum director Arjun Sablok.
Interestingly, male nudity is also on the upswing, as forthcoming releases like Deepak Tijori's [ Images ] Oops! (Mita Vashisht, Mink Singh, Kiran Janjani, Vikas Sethi) and Khwahish prove.
The next beauty queen to hit the marquee is former Miss India [ Images ] Universe Neha Dhupia who makes her debut opposite Devgan in Harry Baweja's Qayamat. Following her is another beauty pageant winner, Celina Jaitley [ Images ], in Jaanasheen (Fardeen Khan [ Images ], Feroz Khan [ Images ]). Both the beauties will be seen in bikinis in their respective launch films.
Other newcomers like Bhumika Chawla (Satish Kaushik's [ Images ] Tere Naam [ Images ]), Mahek (Nitin Manmohan's Nayee Padosan), Saloni Aswani (Saawan Kumar's Dil Pardesi Ho Gaya), Rimi Sen [ Images ] (Priyadarshan's [ Images ] Hungama) and Meera Vasudevan (Milind Soman's [ Images ] Rules -- Pyar Ka Superhit Formula) will just have to try much harder to be noticed.
This does not mean body exposure is any substitute for talent. Both Chopra and Dutta have made an impact on screen because they have potential.