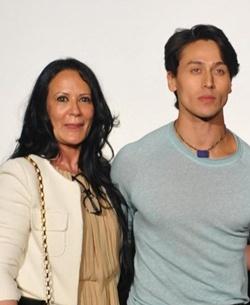 Tiger Shroff has been the topic of Twitter jokes and snide remarks ever since the trailer of his debut film Heropanti released in April.

Ranging from wickedly funny to downright nasty, the online attack on the Sajid Nadiadwala-produced film and its leading man has left many people, including the Shroffs, amused.
Tiger's mother Ayesha Shroff, however, is unfazed by the remarks.
"These comments are only a drop in the ocean. By and large, the response has been positive and encouraging. Every newcomer faces his share of ridicule at some point in his life and career," she says.
"The tremendous love and appreciation that Tiger has got so far for his hard work is the most fitting reply to all the nasty comments. The naysayers can eat their heart out or get as mean as they like, Tiger is here to stay," the protective mother says about her son.
That's not all though.

Industry insiders reveal that the Twitter attack may have been orchestrated by certain people from the film industry.
A prominent filmmaker, on condition of anonymity, reveals, "It is no coincidence.

"Some A-listers have been openly sniggering about not just Tiger but the whole new brigade that has come in to threaten their territory.The mean comments about Tiger on Twitter are a manifestation of the widespread insecurity that the new breed has caused among the established stars."
Apparently, a prominent producer, who is launching a new star kid with his next film, is yet to hear the end of it from his superstar best friend.

Image: Ayesha and Tiger Shroff. Photograph: Abhijit Mhamunkar