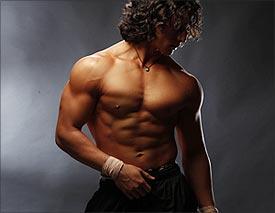 Six months after Tiger Shroff's debut in Sabir Khan's Hero-Panti was announced, a leading lady has been finalised.

Model-actress Kriti Sanon will now star opposite the young actor.

Tiger's parents Jackie and Ayesha Shroff were very patient through the months, knowing they could trust the team to do justice to their son.

Reports claiming Suniel Shetty's daughter was a prime candidate for the heroine's position were false.

Producer Sajid Nadiadwala and director Sabir Khan had decided to start shooting with Tiger even without a lady love.

"Shooting would now start in January with Tiger's action sequences. That will be followed by romantic scenes in the next schedule," says a source.
Tiger confirms he is training hard for his part. Sajid, we hear, has ordered a rigorous regime for the boy so that he looks like a 'non-gym going ruffian from a town in Uttar Pradesh'.
Says the source, "The role is akin to the toughie Tiger's father played in Subhash Ghai's Hero. But it's far more action-oriented. The fights would have an untrained unrehearsed flavour to them, like the flare-ups that occur in the small-towns between rival groups of youngsters."
"I've been training like crazy," Tiger says. "Every morning there's gymnastics and dance rehearsals. In the night , I run and practice martial arts. It's a very focused regime that doesn't leave me much time to for a social life."
The training also leaves him with no time to have a love life. "The closest I will get to a girlfriend is the one I'll have in my film."
But Shroff Jr claims he's happy. "I've been happy since Sajid Sir (Nadiadwala) signed me in June. Other than being one of the biggest producers in town, he's one of the most decent people in the industry. He's giving me a dream launch," he says.