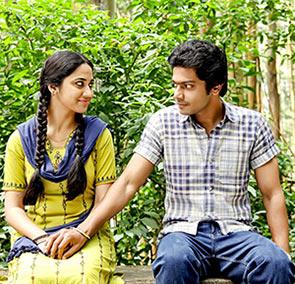 Tamil superstar Arya's brother, Sathya makes his debut in Tamil with Amarakaaviyam.
The film is produced by Arya's production company The Show People and directed by Jeeva Sankar.
So happy was Arya on seeing the first copy that he ordered 143 cakes and distributed them to the film unit and his friends.
"143 symbolises 'I love you'. I was amazed and stunned with the final output of Amarakaaviyam. Jeeva Sankar, my friend and the director, and Sathya, my brother, have created a romantic tale that will match international standards," said Arya.
"I know what it feels like to be a hero, but this is the first time that I felt the pride of producing a good film.
"If this is an indication of things to come, I will continue producing films like this," Arya added.
An emotional Sathya said, "I am blessed. I was lucky enough to hear the script of Amarakaaviyam inmany earlier casual interactions as Jeeva Sankar is a great friend of our family. With a sense of envy, I had proposed many names for the hero's role.
"One fine day my brother Arya asked me if I would be interested in playing the lead in the film. I jumped in glee and joy.
"I was out of the country when Arya saw the film and was keeping my fingers crossed to know his reactions.
"He said, 'Bro, I am proud of you. I am not just an investor in this film, I will go beyond the prescribed format to promote this film.'
"I know he is a guy who thinks beyond boundaries, and I am sure the audio launch of Amarakaaviyam will witness certain surprises that will sky rocket the film."
The audio will be launched on June 28.