A year after his film No Entry became 2005's biggest blockbuster, director Anees Bazme is still the flavour of the season.
He has already started on his next, called Welcome (no, it's not a sequel to No Entry) starring a huge cast of Akshay Kumar, Anil Kapoor, Nana Patekar, Katrina Kaif, Mallika Sherawat, Paresh Rawal and Firoz Khan.
And the director may also pull off a casting coup by having Ajay Devgan and Kajol star in their first film together after their wedding. The film, Fifty Fifty, will be a romantic comedy, and also stars Katrina Kaif. It will be produced by Sajid Nadiadwala.
But even with such plum films at hand, Anees first believes in completing his old films.
Ronjita Kulkarni met Anees on the sets of his Devgan-starrer Benaam, which has been in the making for two-and-a-half years, and caught up with him about life after No Entry.
Did you expect No Entry to be such a big hit?
I didn't expect No Entry to become the year's biggest hit, but I was confident it would work.
…Considering Masti had released before No Entry?
I was told Masti was similar to my film, so I told my assistant to watch the film. I didn't want to watch it myself. He told me that the genre was the same, but the film was different.
One thing I was sure of was that I didn't want any vulgar scenes or dialogues. I wanted to make it for the family audiences. We were on the borderline actually. If we had slipped, the film might have become vulgar.
The day I completed No Entry, I watched Masti. I thought both films were different. If you take the same script and give it to two directors, you will get different films, as both have different visions and styles of filmmaking.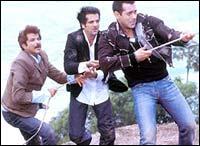 Why do you think it worked?
Comedy films tend to be very loud. But I always try to control my actors. You must have the right situations and dialogues. An actor doesn't have to make faces, or keep stumbling just because it's a comedy film. I hate actors overacting.
That's why a good script is very important.
I think what people liked in No Entry was that the actors acted normally, only the situations were funny.
If you were to make No Entry again, would you change anything about it?
Oh, yes. I would make more songs like Are re re re ah and the No Entry title track.
I would have given Lara Dutta better outfits.
My camerawork was not consistent. My cameraman Ashok Mehta was very busy elsewhere during the shooting of No Entry, so we had to make do with someone else for some scenes. If I had to direct the film today, I would not have allowed that. It is very important to maintain the look of the film.
I would have also made the film 15 minutes shorter.
But the audiences' main grouse was that Salman Khan was missing in major chunks of the film.
I couldn't help that. At that time, (producer) Boney Kapoor told me that I have Salman's dates for only 15 days. So I wrote less scenes for him. Later, even though people told me to include more of his scenes, I could not, as most of the movie was ready. If I tried to add him, it would have spoilt the film.
Boney Kapoor is known for reshooting his films. Did it happen with No Entry too?
No, I did not allow No Entry to be reshot unless it was absolutely necessary. Boney told me to reshoot several times. Once he gave me this reason that in a particular scene, the junior artists in the background were not good!
He loves to reshoot films because he thinks that will better the film. But I was adamant.
You have always wanted to be a director. Yet, you started your career as a writer.
I came into this industry as a child artiste. But there was a time when I was neither a child nor an adult. So I didn't get any work. I didn't have any career plans then. All I wanted was an income to make ends meet. I came from a very poor family.
So I took up whatever work came my work. I realised that acting was not for me because I knew I would not reach the top because of looks, height, personality...
I wanted to excel in whatever I did, so I shifted to direction. I assisted Raj Kapoor in Prem Rog, and enjoyed the experience. After that, I assisted about 16 directors.
I also assisted Pradeep Suri, who was the sound engineer of No Entry. He used to give me Rs 5 to shift speakers from here to there.
When you want to become an actor, you hand over your photographs to the filmmakers. If you want to become a singer, you hand over your music recording. But if you want to become a director, what do you show? You can't describe how you plan to direct a shot, but you can narrate a story. And for that, you need a good script.
So I became a scriptwriter. Swarg was my first film. It did well, and I got recognised. After that, more hits like Pratibimb, Shola Aur Shabnam, Ladla and Bol Radha Bol followed.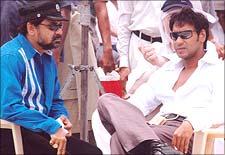 How did you land Hulchul, your directorial debut?
By the time Hulchul (starring Ajay Devgan and Kajol) happened, I had written a lot of scripts. Some producers offered me a directorial break. Among them was Lalit Kapoor, a friend. This was an emotional decision for me, and I said yes.
But the film didn't work, and I was very disturbed. I felt especially bad for Ajay, because he had faith in me.
So I wrote Pyaar Toh Hona Hi Tha, with the same star cast. When the film did well, I felt better.
After that you made Deewangee, a thriller.
When Pyaar Toh Hona Hi Tha did well, producers wanted me to follow it up with another romantic film. But I didn't want to slot myself as a romantic filmmaker. How many romantic scripts can I think of?
Because I was a writer as well, I could afford to wait. I wrote scripts to keep the kitchen fires burning.
Then, producer Nitin Manmohan agreed to make Deewangee, a thriller, with me. After that, people wanted me to slot me again. So again, I had to wait for two years for my next film, No Entry. If I hadn't been a writer, I may have been forced to make the films that I didn't want to.
Between Deewangee (2002) and No Entry (2005), you made a couple of films that remained incomplete.
Yes, Radheshyam Sitaram had Aishwarya Rai in a double role. It was completed four years ago, but due to some problems, the producers haven't been able to release it.
There was another Govinda starrer, which we have renamed Sandwich.
It's very frustrating when you work hard on films and they don't release. I feel that if Radheshyam... had released years ago, the good times that I'm seeing after No Entry, I would have seen four years ago.
Any regrets?
I got success very late in life. It took me 27 years to reach where I am now. I think I'm a better director than writer.
I've made a lot of career mistakes. I planned Radheshyam well, but it didn't release. I made the mistake of not directing a film with another producer, which may have clicked.
Even today, I'm making a mistake -- only this one is deliberate. People tell me that I must direct three-four movies a year, make money and secure my future. But I can't do that.
Have there been instances when you did not like the way a director executes your script?
Yes. But if something goes wrong, I tell the directors. They know that I'm not insulting them. I only say what I feel for the betterment of the film. But I never hold a gun to their heads.
There was a song in Raja Babu called Sarkaylo khatiya. The director insisted that we keep this song because he was sure it would be a hit. I was happy with the film, but I didn't want that vulgar song because I thought ek gaane ke liye mera naam kharab hoga (one song would spoil my reputation). But the director insisted that to make a successful film, we had to include this song. I also wanted to make a successful film, but every man has his limits.
Which is your best script till date?
It's still to come. But I loved Aankhen.
Best film?
I'm very proud of Deewangee.
In conclusion, which is the most important ingredient for a hit film?
A fantastic script. Performances, direction, etc comes after that.
Sometimes, directors feel that a particular comedy scene worked very well in his previous film, and tend to repeat it in their next.
Actors fall prey to that as well. Rajesh Khanna used to tilt his neck in a certain way in his movies. When he realised that people liked that, it became his style. Even today, a lot of actors have realised that people like certain mannerisms about them, and start repeating themselves. Actor ki death vahan se shoru hoti hai (that's how an actor's death begins).
One should be aware of what works and does not. But if you keep repeating yourself, that's manipulation.