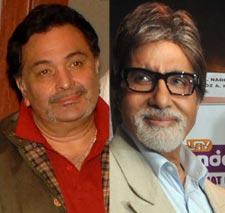 Plans to shoot Sudhir Mishra's ambitious period epic Mehrunissa in Lucknow with Amitabh Bachchan and Rishi Kapoor have fallen through.

It's seen as practically impossible to shoot with these actors in the crowded film-fixated city. No matter how topnotch the security bandobast, it still fell short of requirements for the Big B.

Says a source, "Though Mr Bachchan himself is game for any kind of shooting eventuality and is known to plunge into crowds unheedful of security risks, it was felt that shooting in the crowded streets lanes and bazaars of Lucknow would be impossible. The script is now being revised to accommodate Lucknow more in the interiors than on the streets."

When quizzed about the downplaying of the City Of Nawabs in his epic drama, director Sudhir Mishra said, "Mehrunissa is set in Lucknow. But it isn't going to be the Lucknow that we see stereotypically in our films. Not the 'nawaabi' pehle-aap-pehle-aap culture. My film

is situated more in the heart of Lucknow where the middleclass lives."

Sudhir admits he would now have to recreate Lucknow on a studio set. "It would be impossible to shoot with the actors in public places. Besides, this is Lucknow during the Partition. We're recreating the city on a studio floor in Mumbai. We will then match the portions shot on the studio set with the actual Lucknow."

Apparently, Amitabh and Rishi play a Hindu and a Muslim, respectively.

Says a source, "They're as thick as thieves, inseparable pals, until they fall in love with the same girl, played by Chitrangada Singh.Thereafter, they don't speak to each other for decades."

While the Big B has done films set in another era, Rishi Kapoor has never done a period film before and is preparing for his part by reading up as much as he can on pre-Partition era."

Interestingly, Amitabh and Rishi have no scenes with the Chitrangada. "Though they're supposed to be in love with Chitrangada's character, she's part of their past, so she'd only have scenes with the actors chosen to play the young Amitabh Bachchan and Rishi Kapoor."