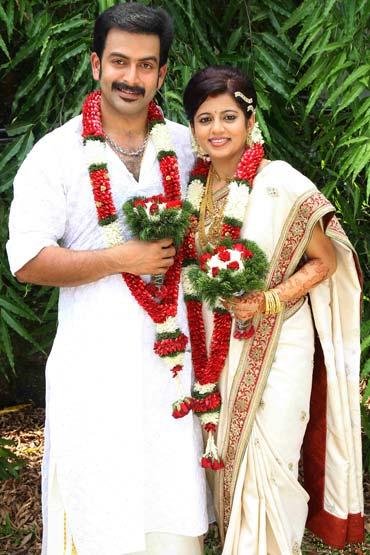 A
iyyaa
actor Prithviraj Sukuraman, who celebrates his birthday today, October 16, and who has given many hit films in Telugu, Tamil and Malayalam, is planning to shift base to Mumbai.
The actor will wrap up his assignments down South by the end of the year and move to Mumbai in January next year.
His wife Suparna, a former journalist, has been busy hunting for a home for the couple in the city while Prithvi concentrates on completing his projects.
Speaking of his plans, Prithvi said, "Mumbai will be my home now. It makes sense since I'm seriously considering a career in Hindi films.
"Supriya and I are not rushing into buying property though. We want to buy ourselves the best apartment we can find. Till that happens, we'll rent a flat when we move in January."
Prithvi, who has already
signed his second Hindi film, says that his wife is taking care of the finer details regarding their new residence.
"Although Supriya is a Malayali, she has spent a large part of her life in Mumbai. In fact I saw the real Mumbai through her. She showed me aspects of Mumbai that I had never seen before," he says fondly.
Prithviraj's second Hindi project is a Yash Raj film titled
Aurangzeb
.
"I was shooting for the song
Aga bai
for
Aiyyaa
at the Yash Raj studio when the casting director asked me if I'd be interested in auditioning for a part. I agreed. When I heard the role, I was hooked," he says.
The actor says he is very confident of his role in
Aurangzeb.
Ishaqzaade
actor Arjun Kapoor will have a double role in it.
"I wouldn't have accepted the role if I wasn't satisfied with what was offered to me. I am in no rush to get anywhere. I am here to stay. Mumbai will be my home from January," he signs off.