Azim Premji, chairman, Wipro Ltd, has come up with interesting propositions for his shareholders, while demerging the non-technology businesses from the listed entity, Wipro Ltd.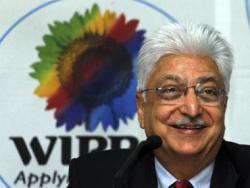 The markets have given it a thumbs-up, as it will not only benefit minority shareholders but also the promoter group, which can bring down its shareholding through this route.

Analysts say Premji has been trying to bring down his stake in the company for a while now. So, if investors opt for more shares of Wipro Ltd then these will come from Premji's own holding.

Under the demerger, investors have two options. First, they get one equity share in Wipro Enterprises Ltd for every five shares in Wipro Ltd.

However, since the demerged company will not be listed anytime soon, investors can exchange these shares with the promoter's shares in Wipro Ltd.

The implied return under this option would be 12.1 per cent. So, for every 100 shares of Wipro, you would get another 12 shares from the promoter under this scheme.

This option will also benefit Premji as he will bring down his stake by 2.7 per cent, presuming all the minority shareholders go with this option, while his holding in Wipro Enterprises increases.

Under the second option, investors would get 7 per cent redeemable preference shares in Wipro Enterprises, with face value of Rs 50,
for every five shares of Wipro Ltd.
Each redeemable preference share will have a maturity of 12 months and will be redeemed at Rs 235.20. The implied return under this option would be 13 per cent, explains Harit Shah, analyst at Nirmal Bang Securities.
Investors have to decide whether they want to take cash a year later or bet on Wipro's IT business in the medium-term.
However, if operationally the company's performance deteriorates and the stock price corrects, then the 12 per cent implied return may not be so attractive and the option of taking cash may be better.
Edelweiss Securities says: "In FY11-12, the IT business had contributed 86 per cent to revenues and 94 per cent to operating profit. We believe, based on our calculation, that the non-IT business has been valued at 26x FY12 EBIT, a fair deal for investors. Further, this will also enable the promoter to reduce stake (which any way he would have had to by 2013 to abide with Sebi regulations)."
However, there is no clarity on how the cash and debt will be divided between the two companies, so analysts are not sure what kind of a valuation each business should be given.
The stock has already run up and the demerger will not have any further material impact on share prices.