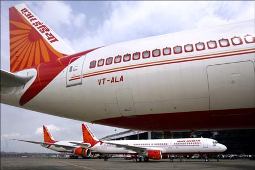 Loss-making Air India may now see light at the end of a long tunnel as it is likely to register cash positive this financial year even though it would continue to make an overall loss, official sources said on Wednesday.

"The national carrier might report EBITDA positive performance in 2012-13 as its financial performance has shown considerable improvement due to the implementation of the Turnaround and Financial Restructuring Plans," one of the sources said.

However, in its overall performance, the airline would show losses, the sources said, adding that though Air India was still suffering losses, its performance has improved and it has returned some of the loans taken from banks.

EBIDTA (earnings before interest, taxes, depreciation and amortisation) is an approximate measure of a company's operating cash flow.

Air India has been suffering losses of Rs 5,548.26 crore (Rs 55.48 billion) in 2008-09, Rs 5,552.44 crore (Rs 55.52 billion) in 2009-10, Rs 6,865.17 crore (Rs 68.65 billion) in 2010-11 and Rs 7,853 crore (Rs 78.53 billion) in 2011-12.

The prime reasons for these losses are hike in jet
fuel prices, its opaque pricing and VAT on it, increase in depreciation provision due to aircraft acquisition, high infrastructure cost, fall in premium traffic and a decline in ground handling revenue, the sources said.
Air India's revenue also posted an increase of 6.5 per cent during April-September this year at Rs 4,757 crore (Rs 47.57 billion), as against Rs 4,467 crore (Rs 44.67 billion) in the same period a year ago despite the 58-day long strike by its pilots.
For the first time since its 2007 merger, the airline made a cash surplus of Rs 48 crore (Rs 480 million) during April-July 2012 as against a cash deficit of Rs 586 crore last year.
The net loss during April-July came down by Rs 557 crore (Rs 5.57 billion). Air India, whose 10 narrow-body planes were grounded primarily for want of spares and other issues affecting its finances, has now revived six of them, taking the total fleet to 58 such aircraft from 52, the sources said.
The government was also considering a voluntary retirement scheme, targeting about 5,000 Air India employees including those in its wholly-owned subsidiaries like Alliance Air and those concerning engineering and ground handling services, the sources said.