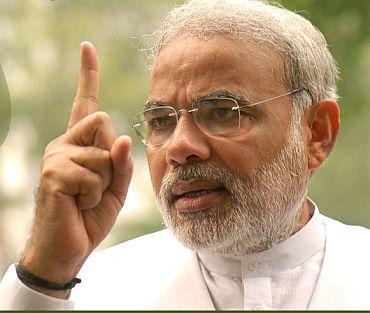 Though industrialists across India might be tripping over themselves to have a photo-op with Gujarat Chief Minister Narendra Modi, business leaders in Kolkata are being cautious and not making their fondness for Modi obvious.

On Tuesday, Gujarat chief minister addressed a business meet jointly organised by the biggest business bodies in West Bengal -- the Indian Chamber of Commerce, MCC Chamber of Commerce and the Bharat Chamber of Commerce.
He was felicitated with bouquet, shawl and the complete volumes of the work of Swami Vivekananda, after which he launched into an extempore speech on his Gujarat model of governance.

However, industrialists were reportedly in two minds about attending Modi's address lest it should draw the ire of the Mamata Banerjee-led government.

Sanjiv Goenka, chairman of RP-Sanjiv Goenka Group and Harsh Neotia of Ambuja Realty were travelling and hence did not attend the meet.

However, some industrialists were keen to attend Modi's event.

GP Goenka, chairman of Duncan Group, had told The Telegraph that he would return from Mumbai and head straight to the venue.

Mahendra Jalan of Keventer Group and his son Mayank Jalan were also attending.

At the post-lunch session, Modi will have 20-minute, closed-door, one-to-one meetings with the senior members of the three chambers.

The mention of Modi's name displeases Bengal chief minister especially because the media compared Bengal Leads, the damp squib in Haldia earlier this year to the jamboree at Vibrant Gujarat held a few days earlier.

Banerjee is not attending Modi's meet as she is away in New Delhi.

Modi's visit makes Banerjee uncomfortable as the Tata Nano project, which she shooed out of Bengal, was a success in Gujarat.

It is believed that the Bengal chief minister even refused to allow the meet to be organised in Kolkata's Netaji Subhas Indoor Stadium.

In 2008, shortly after the Nano factory had reached Sanand after exiting Singur, Modi had rubbed salt into the injury with an open letter to then Left Front chief minister Buddhadeb Bhattacharjee and (Mamata) Banerjee, then in opposition.

"The condition for the growth of Nano has not yet developed in West Bengal in view of its present work culture despite your serious efforts. . . People of West Bengal may think I have snatched Nano to Gujarat. But it is not so," Modi had written.

How different is the 'Modi model' from 'Mamata model'?

According to economist Abhirup Sarkar, Modi's growth model is market-driven, one in which it is believed that if there is growth there will be a trickle-down effect to the bottom, whereas Mamata promotes a model in which the poor can be addressed directly, not through the market.
Image: Narendra Modi | Photograph: Rediff Archives