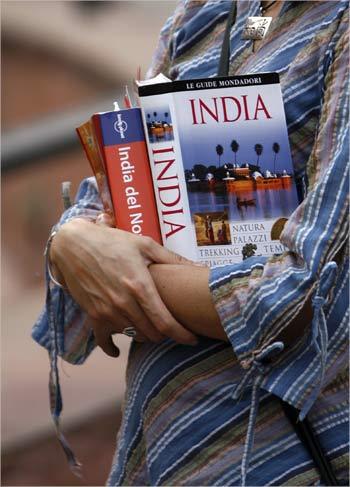 Tourist visa on arrival for 40 more countries including the US, the UK, Brazil, Germany, Canada and Australia, would soon be a reality as the Home Ministry is expected to clear the proposal soon.
"The proposal to allow on-arrival tourist visa to citizens of 40 more countries will be a reality soon as the Home Ministry is expected to give its clearance soon," Planning Minister Rajeev Shukla told PTI.
"Home Ministry's clearance would be last and final approval required for this proposal as it has already been approved by other ministries and departments like External Affairs, Tourism and Prime Minister's Office," the minister said.
The countries for which visa on arrival facility would be extended are: the UAE, Saudi Arabia, France, Italy, Swedan, the Netherlands, Switzerland, Spain, Belgium, Austria, Denmark, Poland, Norway and Ireland.
Under the visa on arrival system, India has agreement with different countries, including Japan, Finland, Singapore, Indonesia, Luxembourg, New Zealand, Cambodia, Vietnam, the Philippines, Laos and Myanmar.
Last year, the Planning Commission had initiated the process for making India a more tourist friendly destination, which includes simplifying online visa and attracting senior citizen foreign visitors.
In a meeting convened by the Commission in October, besides its Deputy Chairman Montek Singh Ahluwalia, Foreign Secretary Sujatha Singh, Tourism Secretary Parvez Dewan, Additional Home Secretary and representatives from the Intelligence Bureau and the PMO (Prime Minister's Office), among others, had discussed the matter.
During the meeting, all officials, including National Security Advisor Shivshankar Menon, were of the view that India should extend visa on arrival facility for these 40 countries as it would help in garnering more foreign exchange.
According to Tourism Ministry data, foreign tourist arrivals in the country in 2013 saw an increase of about 4.1 per cent as compared to 2012.
During the entire 2013, 68.48 lakh (provisional) tourists visited India compared to 65.78 lakh in 2012. In 2012, the number of foreign tourists visited India increased by 4.3 per cent over the previous year.
India earned $18.133 billion as tourism fee in 2013 and registered a growth of 2.2 per cent compared to $17.737 billion with growth of 7.1 per cent in 2012 over 2011.
The ministry said, "Domestic tourism continues to be the main contributor to the sector providing much needed resilience."