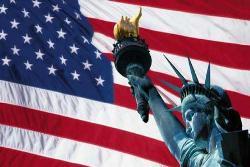 The US has raised concerns on market access, removal of non-tariff barriers and reduction of duties on imports of certain products, but both countries reiterated the need to strengthen bilateral trade.
US Commerce Secretary Gary Locke, who is on a six-day visit to India for furthering the work outlined by US President Barack Obama in November last year.
"Even though India has made tremendous strides to open up its economy, there is much work left to be done. While many tariffs have come down, others remain: From 19 per cent levies on civil aviation aircraft and 30 per cent on pistachios to 26 per cent on X-ray film and 50 per cent on apples," Locke told Indian industry in New Delhi on Monday.
He also raised concerns regarding inadequate intellectual property rights, prohibition of foreign direct investment in some key sectors and mandatory technology transfer requirements.
"Ultimately, what America seeks is a level playing field for its companies, where the cost and quality of their products determine whether or not they win business. In seeking that level playing field, we are merely asking for the same treatment foreign companies and investors receive in America," said Locke.
He said while such market barriers might protect the country's vast small and medium
enterprises, it would prove detrimental for the country's economy in the long run, by limiting the flow of foreign equity and innovation.
Locke held a series of bilateral meetings with Commerce and Industry Minister Anand Sharma earlier in the day. He also met Finance Minister Pranab Mukherjee and Deputy Chairman of the Planning Commission Montek Singh Ahluwalia.
Mukherjee urged US companies to invest in India's infrastructure development through export of hi-tech equipment and forming partnerships with Indian companies.
"We had a frank exchange of views regarding market access and non-tariff barriers. We also sought ways to sustain the $50 billion bilateral trade with the US and how to increase it.
"We also discussed how we can improve cooperation in space technology, now that they have removed DRDO and Indian Space Research Organisation (Isro) from the restrictive list," Sharma told reporters.
Last month, the Obama administration removed nine Indian space and defense-related companies, including those from the Isro and Defense Research and Development Organisation, from its banned 'Entity List'.
The move was expected to bolster high technology trade between the two countries.