In a bid to promote two-way engagement and build better understanding with the Overseas Indian community, a unique institution - 'Pravasi Bhartiya Kendra' - will come up in New Delhi by next year.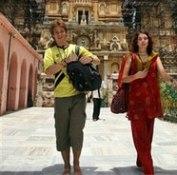 The institution will serve as nerve centre for further improving economic, social and cultural relationship between India and its diaspora, Overseas Indian Affairs Minister Vayalar Ravi said after its ground-breaking ceremony.
He said that it is being set up to promote closer people-to-people ties across a broad range of sectors through diverse activities.
The Pravasi Bhartiya Kendra, to be built by National Building Construction Corporation at a cost of Rs 80 crore (Rs 800 million) in Chanakyapuri area will have library, auditorium, exhibition hall, cultural centre, business centres and guest houses.
During the Pravasi Bhartiya Divas, earlier this year, Prime Minister Manmohan Singh had laid the foundation stone of the building.
The Overseas Indian community is estimated at around 27 million.