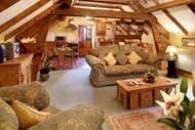 Big names in the real estate industry are trying to keep pace with the rising demand for ultra-luxurious holiday homes.
DLF is the latest entrant in the segment, after Tata Housing and the Lodha Group had recently ventured. DLF plans to construct exclusive villas in Shimla, Kasauli and Goa, with an investment of Rs 500 crore (Rs 5 billion).
The demand for smaller gated communities is so high that DLF has sold 80 per cent of the 24 villas in the Samatara project, Shimla, in the pre-launch marketing, according to Ranjit Chopra, director-north, DLF. The price of each house in the city's first gated community is Rs 2-3 crore (Rs 20-30 million), according to the company's website.
Tata Housing received a similar response. "After studying the market in the region, we thought it will take us two years to sell 75 per cent of the project. We have managed it in around six months," said Brotin Banerjee, MD and CEO of Tata Housing.
Their Privé project has 70 villas located on a 25-acre lot. The buyer can choose from four different sizes of villas, ranging between 3,900 and 10,000 sq ft. The smaller ones start at Rs 2.5 crore (Rs 25 million) and the bigger start at Rs 8.5 crore (Rs 85 million).
Lodha's Goldcrest sprawls over 11 acres, containing 35 units. Depending on the size, the price is Rs 3-5 crore (Rs 30-50 million) each.
"We are left with less than five villas," said Abhisheck Lodha, managing director.
No advt needed
And, none of the developers advertised the project. They relied on references or word-of-mouth to sell their properties.
"The demand for second home from high net worth individuals (HNIs) is on a rise. This segment is willing to spend 25 per cent of the cost of their residence to buy such properties. And, should be able to reach the place within two hours of travelling," said Pranay Vakil, chairman, Knight Frank (India).
Developers say there was a pressing demand from wealthy families for such developments from credible developers. Earlier, HNIs purchased their own plots and constructed properties. However, there were issues with security, maintenance and amenities.
Facilities in these projects include private swimming pools, internal lifts, sun decks and concierge services. An important part of these gated communities is a clubhouse that offers facilities such as a meditation centre, spas, tennis courts, libraries and business desks.
The developers have appointed a professional third-party to take care of house-keeping and maintenance. DLF has adopted a unique model with their leisure homes: Along with villas, the developer is also constructing five-star hotels. "The company managing the hotel will maintain the entire property," said Chopra. For the Kasauli project, DLF has tied up with Hilton.
However, maintenance of these properties is an expensive affair. "As these houses are occupied only two-three times a year, the upkeep cost is high," said Vakil.
Maintenance can be 15 per cent more than what one would pay in an ultra luxury project within the city, said a developer. Tata Housing charges Rs 3 a sq ft of the saleable area each month.
Developers are also trying to keep their projects as 'green' as possible. All of them have installed water harvesting plants and some use solar energy for electricity.