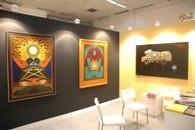 Mumbai-born British sculptor Anish Kapoor's untitled work fetched a reported sum of over Rs 1 crore (Rs 10 million), one of the most expensive exhibit among those by 500 artists at the ongoing India Art Summit in New Delhi.
Brisk sales were reported by more than half of the exhibitors at the four-day art extravaganza which began on August 19 at the international trade venue of Pragati Maidan.
"Both of Anish's work have been sold. We were not expecting such a huge response," said Michelle D'Souza, director, London-based Lisson Gallery which has brought Kapoor's creation to India for the first time.
A total of 54 galleries including 17 foreign galleries are exhibiting paintings, sculptures, videos, installations and other art works at the fair which is said to be India's equivalent of international fairs held in Basel and Hong Kong among other cities.
It is the second time that such fair is being organised in the country. The last year's edition of the art summit was also held in Delhi.
On the very first day Pakistani artist Sana Arjumand's "Line of Control" sold for over Rs 1,5000. "It is a fairly provocative work," says Pronjal Dutta, Partner of the New York and London-based Aicom gallery which is showing three Pakistani artists in its collection.
Despite the art market reflecting the global downturn gallery, analysts are predicting a more positive state for Indian art market which is pegged as the fourth most buoyant in the world projecting an annual growth of 30-35 per cent.
Maithili Parekh, Deputy Director, Sotheby's, said, "It's a great time for buyers. The market has just recalibrated after the price inflation that had flooded the art market pre-recession."
While work by best known contemporary artist Subodh Gupta, is not for sale, well known names like F N Souza and Arpana Caur among others are showing at multiple galleries at "prices ranging from Rs 200 to a couple of hundred thousand pounds," said Neha Kirpal, associate director of the summit.
Three giant hooded monkeys in bronze at the entrance of the summit attracts many visitors and galleries like Chennai-based Prakrit Arts, which is displaying R Baala's abstract installation priced at Rs 98 lakhs, are witnessing a lot of inquiries by curious visitors.
"This time the international exposure is more. There are also more collectors," says Uday Jain, Director of Dhoomimal, one of the oldest galleries in the city.
For some international galleries like Ivonna Veiherte, Latvia, the fair is an opportunity to show their country's artists in India. "We thought everybody is going west so why don't we come to India. We haven't made any sales as yet but are very optimistic," says owner Ivonna Veiherte.