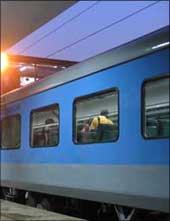 The Railways has decided to install nearly 900 automatic ticket vending machines at stations across the country for the convenience of daily commuters and reduce queues at counters during rush hours.
The machines would be installed at important stations across Northern Railway, including in Delhi, besides stations in South Eastern Railway, Eastern Railway, South Central Railway, East Coast Railway, Central Railway and Western Railway, said a railway ministry official.
The vending machines, which operate like ATMs, were first introduced a couple of years back in Central Railway, Western Railway and Southern Railway.
"The response was much to our satisfaction. Railways have now decided to install 896 more machines across the country," he said.
Smart cards will be used to purchase the tickets. Passengers can select the destination by making a choice on the touch screen. The procedure is similar to drawing cash from an ATM.
Sources in Northern Railway said they are already in the advanced stages of installing the machines at New Delhi station, while plans are afoot to install them at other major stations across Delhi division.
As per plans, Northern Railway will have 150 such machines installed while South Eastern Railway and Eastern Railway will get 200 machines each.
Western Railway, known for its busy Mumbai suburban section will get 75 machines in addition to 125 machines which were introduced earlier in 28 stations under its jurisdiction.
Central Railway already has 175 machines installed in 57 stations. About 46 machines will also be introduced in East Coast Railway while South Central Railway will get 150 of them, the official said.