German luxury car maker Audi on Wednesday unveiled the latest version of its flagship-Audi A8 L sedan. Equipped with the 4.2 FSI petrol engine, this luxury sedan is priced at Rs 87,32,000 (ex showroom Maharashtra) onwards.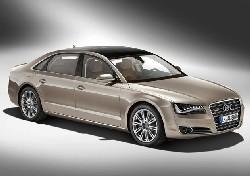 "The introduction of Audi A8 L is a landmark achievement for Audi India as it celebrates our past successes and foreshadows future growth," Audi India Head, Michael Perschke said.

The company plans to introduce additional variants - Audi A8 L 3.0 TDI and Audi A8 L W12 in March and July 2011 respectively, Perschke said.

The new A8 L offers both luxurious ride comfort and sporty handling. The Audi A8 L will have two engine options: the 4.2 FSI will be available in showrooms from February 2011 and the 3.0 TDI will be available in showrooms from March 2011.

The Audi luxury sedan also offers considerably more head room than its key competitors. Among the options Audi offers for the individual seats are seat ventilation and a pneumatic massage function with two selectable programs and three intensity levels.

Meanwhile, Audi India made a successful start with impressive sales growth of 57 per cent in January 2011. The company sold 480 units in January 2011 as compared to 306 units sold in January 2010.

The company has recently opened a new showroom in Chennai, which was followed by the opening of India's largest luxury car showroom in Delhi.

It plans to enter tier II and tier III cities in the near future to expand its dealers network, Perschke said.

Based on the achievement and the current market conditions, the company expects exceptional growth this year.

Our customer centric approach supplemented with the expansion of our dealer network and the enhancement of our product line will enable Audi India to grow exponentially over the coming years, he said.