Mahindra & Mahindra (M&M) would not hesitate to exit its loss-making businesses if customers do not accept the products, chairman and managing director Anand Mahindra told analysts at Nomura in a conference call.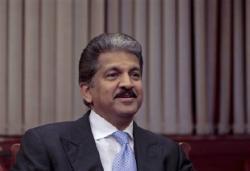 Based on Mahindra's assurances, Nomura on Wednesday said it "maintained M&M as its top pick in the Indian automobile sector". And it believed M&M "would not continue to invest" in businesses such as Mahindra Navistar and two-wheelers beyond a "reasonable time frame". Adding: "We believe one of the key concerns for investors has been the losses in some of these new ventures."

When queried on the Japanese broking firm's report, an M&M spokesperson said: "The comment (on exits) was made in response to a general query on how decisions to exit businesses are made in the group. Mahindra emphasised in both these specific businesses, Mahindra has incorporated learnings from the market and has products with strong value propositions and technology. We remain optimistic on gaining traction in the market."

Analysts said both Navistar and the two-wheeler business of the company were struggling to make a mark. The company sold only 11,139 scooters in October as compared to 17,949 units sold in the same month last year.

Rival Hero MotoCorp sold 529,215 units and Honda 250,606 units in October, when the festival peak sale season begins.

In the light commercial vehicles segment, M&M sold 13,411 units in October, while Tata Motors sold 24,655
units, show data from the Society of Indian Automobile Manufacturers.
While the company said it was taking steps to boost two-wheeler sales, the business is yet to show any signs of a growth. This is in spite of Mahindra launching new products and investing in new research facilities in Pune.
V S Parthasarathy, group chief information officer and executive vice-president, recently told analysts the company launch of the Rodeo RZ and Duro DZ both had a very good response from the market.
"Based on the customer satisfaction index, I think we have got the best rating as far as two-wheelers are concerned and as we have pointed out earlier, the 110cc motorbike will be launched in the fourth quarter of FY13," he said.
On the merger and acquisitions strategy, the Nomura report said M&M indicated it was willing to acquire to attain leadership positions in businesses, though the company would not take unnecessary risks.
"The fact that management still cited walking away from the Jaguar and Land Rover acquisition as a success is quite positive in our view. The company believed it did not have the wherewithal to handle a downturn like the Tata Group had and, thus, did not take undue risk. We expect M&M to adopt a similar conservative approach in future acquisitions," the report said.
It was reported last week that M&M was in the race to buy Aston Martin, the British luxury sports brand.