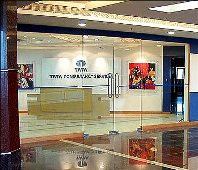 Tata Consultancy Services on Monday attained a market valuation of Rs 4 lakh crore (Rs 4 trillion) after a gap of over a month led by a smart rally in its stock price.

At present, TCS is the only company with a market value of over Rs 4 lakh crore.

At the end of Monday's trade, the market capitalisation of Tata Consultancy Services surged to Rs 4,07,894.64 crore (Rs 4,078.94 billion), the highest for the company since its listing in 2004.

On September 2 this year, TCS's mcap stood at Rs 4,00,868.22 crore (Rs 4,008.68 billion).

TCS is also the second company in Indian markets after Reliance Industries to cross this milestone.

The IT major is already the country's most valued company, a position once held by Mukesh Ambani-led RIL, which also had seen its market cap cross the Rs 4 trillion mark in October 2007.

However, RIL's share price performance has lagged in the past few months and the company's market cap currently stands at Rs 2.72 lakh crore (Rs 2.72 trillion) -- giving TCS a lead by more than Rs 1.35 lakh crore (Rs 1.35 trillion).

TCS shares today rose by 2.52 per cent to close the day at Rs 2,084.05.

Intra-day, the stock touched its all-time high of Rs 2,094.

In US dollar terms, TCS's market cap has risen to $66
billion.
The rupee on Monday ended at 61.79 versus the US dollar, down 35 paise or 0.57 per cent.
Shares of TCS has risen by nearly 65 per cent so far this year, while the benchmark Sensex gained 1.6 per cent during the same period.
The Indian currency has fallen by 13 per cent so far this year.
Fall in the rupee versus the US currency is broadly seen as positive for export-focussed sectors like the Indian IT space.
Large IT companies benefit from a weaker rupee, as it positively impacts their profit margins as these firms earn a major chunk of their revenues in dollar from their US clients.