The 4G service may use Reliance Retail, with a surging customer base, as the launch pad

Reliance Jio, the coming fourth-generation (4G) telecom service provider from Reliance Industries (RIL), might get the captive customers of a million subscribers before its commercial launch as it looks for synergy with sister concern Reliance Retail.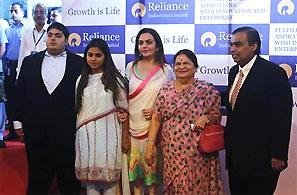 Reliance Jio plans to launch its service by June next year, with high focus on mobile-based enterprise solutions for small-scale businesses, besides traditional mobile services and voice over internet. And, Reliance Retail is expanding its cash and carry business under the banner of Reliance Market, which caters to kirana shop owners, traders, caterers and hoteliers.

"The company is looking at synergy between the retail and telecom business," confirmed a person familiar with the development.

Reliance Jio has pan-India 4G spectrum (2,300 MHz) and has signed two separate agreements with the Anil Ambani-promoted Reliance Communications to use the latter's nationwide telecom tower infrastructure and inter-city optic fibre network. The company has an estimated $3 billion capital expenditure in the current financial year to launch its service.

"Our offerings will be a combination of what Omnitech, Verizon and Google offer," said a company executive on the sidelines of RIL's annual general meeting last month. Omnitech InfoSolution is an information technology outsourcing and managed services company providing business-to-business solutions.
Verizon is a fullscale mobile service provider in the US, with offerings as diverse as WiFi, wireless, internet television and LTE (long-term evolution) technology-based mobile services. By referring to Google, the company means the voice over internet service.

Reliance Jio is launching its service at a time when the mobile service market seems saturated. The Telecom Regulatory Authority of India says the number of mobile subscribers came down by 0.09 per cent to 867.02 million at the end of April.
Teledensity in urban India is as high as 139.33; in rural areas, it is 40.59. At the same time, the broadband internet subscriber base had monthly growth of 0.29 per cent to 15.09 million at the end of April. On an annual basis, this is growth of 8.21 per cent.
Hence the company is putting more focus on data services and is looking for largely untapped customers. Under this plan, it aims to provide small-scale businesses with technology that can help these manage their stores and inventory over mobiles.

Here RIL's group firm, Reliance Retail, comes in as it seeks rapid expansion under the cash and carry business. The company opened its first cash and carry store under the Reliance Market brand in Ahmedabad in September 2011.
By the end of 2012-13, the store had acquired 125,000 customers. Tasting success, the company has gone for rapid expansion of Reliance Market and has opened six stores in the current financial year — Bangalore, Mumbai, Anand, Faridabad, Chennai and Guntur.

At June-end, the customer base under Reliance Market had risen to a little over 300,000 kirana and other traders. The company is expected to ramp up its Reliance Market stores to 15 by the end of the current financial year and this can take the customer base for cash and carry to a million by the end of June next year.

Reliance Jio plans to provide personal WiFi devices of the size of a visiting card. These would create hot-spots to connect various devices on high-speed data. It will provide small-scale businesses with technology that can help these manage their store and inventory over mobiles.

"Imagine the benefit a kirana shop owner will have with the technology that can help manage its inventory and a cash and carry business partner that can replenish its stock just in time," said the person.

Fast moving consumer goods companies have already experimented with this technology to help traders manage their stock. What is different here is that Reliance Market will provide products of various companies to traders and retailers through the technology and service of Reliance Jio. The advantage for Reliance Jio is the scale that Reliance Market is building, which can easily provide a captive base of about a million customers.