With business process outsourcing (BPO) companies buying information technology (IT) services firms and IT services gearing up their BPO offering, many wondered if the days of pure-play BPO players are over. But the acquisition of Intelenet by UK-based group Serco tells a different story.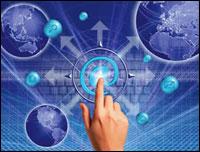 Investment bankers and industry analyst believe the IT/BPO space will see some more action. At present, at least, five over $500-million deals are being discussed for potential acquisition.

Add to this another 10 in the range of $100 million are at various stage of discussion in both the IT and BPO space, said at least three investment bankers tracking the IT sector.

Serco's payout of $634 million valued Intelenet at 2.2-2.3 times and 10.5 to 12 multiples on Ebitda (earnings before taxes interest, taxes  depreciation and ammortisation) basis.

Many within the industry feel the deal was expensive. But agreed that a strong management and capabilities would get premium even in a mature industry like IT services and BPO.

Genpact's acquisition of Headstrong for $550 million is another example. Headstrong had revenue of $217 million in 2010.

Amit Singh, executive director, Avendus Capital believes the next 48 months will be a crucial factor driving the mergers and acquisition (M&A) activity. "The IT-BPO sector has always been proactive in terms of M&A.

However, some of the recent deals are a fallout of the last round of downturn, which encouraged a lot of buyers in the IT services to consolidate their vendor list. It effectively means that IT vendors need deeper capabilities, domain expertise, larger portfolio of services, wider geographic presence and scale to survive. Hence, this flurry of M&A to jump start on some of the missing pieces," he said.

Singh's company was involved in two of the largest deals of this year - iGate-Patni and Intelenet.

Milan Sheth, Partner, Business Advisory Services, Ernst & Young said the BPO sector though still young, has been a tad slower in terms of growth.

"In the last two years, a lot has changed. Firms are much clearer about their growth strategies. Besides, most of the firms have had a management change, which will drive the next phase of growth," he said. Seth feels that over the next six to 12 months a few deals in the $100
million range will be completed.
Many believe the action in the BPO might just speed up. Especially, since the BPO sector has taken more time to see a momentum in business after the downturn. However, if one goes by the data of TPI Index, the total contract value (TCV) awarded in the first quarter (January-March) of 2011 was up 66 per cent year-on-year and grew 111 per cent on a sequential basis. The index measures commercial outsourcing contracts valued at $25 million or more.
The $6.6-billion worth of contracts for the first quarter, was also the second best quarter by number of contracts in past five years. A clear indication of growth opportunities.
"The BPO and IT sector makes sense for investment. The BPO market is yet not as penetrated as the IT services segment. The share of Indian IT services players in the total outsourcing market is in single digits. So, opportunity are immense. Also this sector is not capex intensive and growing at a double-digit. There are very few sectors that have such growth rate," said a senior investment banking source on condition of anonymity.
The other reason for big ticket acquisitions in the BPO and IT sector is also due to private equity players looking at exit. Singh says reviving market conditions are also fueling the desire for PE funds to exit from investments whose investment horizons have matured.
"Of the $500 million deals, a majority of these are firms from PE portfolios. Most of the PE players have completed five to six years in the investee firm. It is just a matter of time and they will need to exit," said the banking source.
Mumbai-based BPO firm WNS is one such example, where PE player Warbug Pincus has been invested since 2002. There have been reports that ExlServices, the Delhi-based BPO firms investor Oak Hill and Blackrock with 36.5 per cent and 11.3 per cent stake in the company are evaluating an exit strategy.
Ganesh Natarajan, vice-chairman and CEO of Zensar Technologies said there is a trend within the sector that it makes sense to grow inorganically if the firm is getting into a new market or vertical.
"But you must remember that the IT-BPO sector is pretty crowded till you have a good client list backing you and credible offerings, its difficult to grow in double digits," said he.