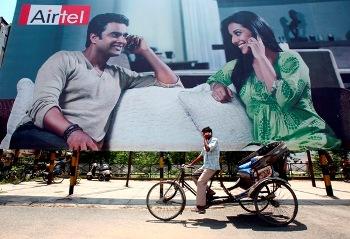 Bharti Airtel, which acquired Zain Telecom's assets in 16 African countries last year, has started discussions with all its key competitors on the continent -- including MTN, Vodacom, Orange, Millicom and Etisalat -- for sharing tower infrastructure and back-end optic fibre networks.

The idea is to reduce capital investments and improve profitability.

"The industry cost structure in Africa should be optimised. We are having collaborative discussions with our competitors.

"They are eager to share tower and fibre infrastructure so that the costs can come down," Manoj Kohli, CEO, international operations, told Business Standard.

On whether this could lead to a joint venture company for tower infrastructure in Africa, he said, "There is no plan yet. We have just started discussions." 

Kohli says costs in Africa are very high.

"They are far higher than in India. In some cases, the costs are 50 per cent higher, in some cases double and in some cases more than double," he said.

Bharti had bought Zain's operations in Africa at an enterprise value of $10.7 billion (Rs 48,000 crore). It plans to invest $1-1.5 billion in Africa this year.

The company also plans to replicate its Indian infrastructure model in Africa. It has registered a tower company in each of the 16 African countries where it operates. These will be controlled by a holding company registered in the Netherlands.

"We have 12,000 towers, which
will be shifted to the new companies. We will also start building new towers under these companies," said Kohli.
Bharti has also set up 16 separate companies for m-commerce (commerce via mobile devices). These will also be controlled by a holding company.
"Africa is far ahead of India in m-commerce. This is one area we have identified for growth," he says.
Kohli said Bharti and its vendors would apply to tap the $5-billion credit line offered by India to companies in Africa. It was announced by Prime Minister Manmohan Singh on his recent trip to the continent.
"We and our vendors will surely leverage this opportunity. All countries do it. China does it all the time," he said.
Both these models, industry experts say, will help the company get investors at a later stage. However, Kohli is not willing to talk on future possibilities.   
In India, Bharti has a joint venture for towers with Vodafone Essar and Idea Cellular -- Indus Towers.
Indus runs over 100,000 towers.
Bharti's own company, Bharti Infratel, has 30,000 towers.
The model of grouping this business into a separate company and then looking for strategic investors is used by other operators such as Reliance Communications too.    

Bharti says it is on course to meet its $5 billion revenue, $2 billion Ebitda (earnings before interest, taxes, depreciation and amortisation) and 100 million subscriber target in Africa by 2013. Its present subscriber base is 45 mn. The revenue was $2.9 billion in the year ended March 31.