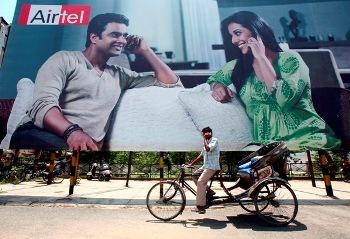 Bharti Airtel, which acquired the African assets of Zain Telecom in February, has started the process of giving orders for setting up new telecom towers there.
The company had already sought bids to set up towers in countries like Nigeria, Kenya and Tanzania, said sources. Bharti is giving these orders market wise, instead of one bulk order.
They said the contracts for passive infrastructure equipment and turnkey projects to build towers were likely to be awarded next month.
A company spokesperson said it did not comment on market speculation.
"The company is planning to take competitors head on and, hence, strengthening its network in Africa," said a source close to the development.
Airtel had recently talked about forming separate independent tower companies in each country it is present. The tower infrastructure sharing concept is taking off in Africa.
"There are a couple of small independent tower companies in Africa, but there are no big ones," said an industry expert.
Infrastructure sharing at the tower level will help Bharti to cut costs, as it aims to turnaround its African operations quickly.
While Airtel is yet to set up companies for towers in Africa, it has started the process to build tower assets. These towers would be constructed such that they can host two to four tenants.
Bharti, which acquired Zain's African assets for $10.7 billion in the largest deal this year, is under pressure to cut costs and turnaround its African assets.
It also plans to implement its minute factory model, a success in India. Bharti has outsourced the company's networking and information technology backbone, and targets low usage customers in addition to high-end customers.
Minute factory model allows the company to add network as and when the user numbers increase. It does not require Bharti to invest heavily in network infrastructure and reduces fixed costs.
"The company says the average minutes of usage per subscriber in Africa are lower than 100, and there is, therefore, potential for exploring usage elasticity and replicating the minute factory model," said HSBC in a report released during the Zain acquisition.