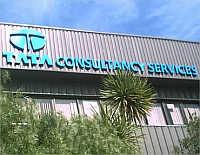 Tata Consultancy Services Ltd, India's largest information technology services provider, told analysts the company's third quarter would be a usual one, with no sudden negative surprises. The company's stock was down 2.8 per cent, ahead of today's meeting between analysts and the management.
TCS expects the October-December quarter volumes to be lower due to lesser working days, and margins would see a slight decline due to fresher intake.
For the first and second quarters of the current financial year, the company had reported a volume growth of 5.3 per cent and five per cent, respectively. The December quarter is generally a weak quarter for the industry due to lesser working days.
"There is no negative news from TCS for the third quarter. The tone of the management is similar to what we have been hearing for the last two quarters," said Pralay Das, an analyst with Elara Capital.
"They did hint towards a lesser number of working days in verticals like hi-tech and manufacturing. The management continued to hold its view that it does see opportunity in discretionary spends."
Analysts present at the meeting said the company would see front-ended growth in FY13, which it had seen over the last two quarters.
"The company maintained what it said in the beginning of
the year. They did, however, say that Q3 (October-December) will see a slight decline in margins due to higher fresher intake this quarter. The rupee will also have some impact. We think margins may be impacted by 40-50 basis points. The company, however, maintained that they will be focused to deliver 27 per cent margins for FY13," said Ankita Somani, a research analyst at Angel Broking.
Added another analyst on condition of anonymity: "They also said that Europe may be a tad sluggish this quarter, primarily due to telecom. The management will get a better picture on client budgets in January. They said banking and financial services also have some pressure, but despite that, they have seen deals."
With Infosys Ltd hinting that its five per cent dollar revenue growth for FY13 is under threat and Cognizant Technology Solutions Corp sending feelers that its 2013 growth might be lower than 20 per cent, analysts were hoping to be able to get some peep into client budgets.
"The company also said the next few quarters will see vendor consolidation and TCS is in a position to gain market share. As for FY14, the management sounded much more positive than some of the other peers. So far they do not see any sudden negative surprises, but will have a clearer picture in January," said another analyst, who also requested anonymity.