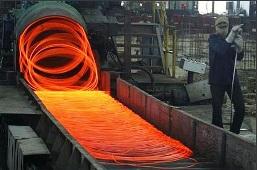 Tata Steel, planning to raise $1 billion through a foreign bond issue, is looking at the option to raise another $1.2 bn by selling stake in other Tata Group companies, according to reports.

Tata Steel has 54.5 per cent stake in Tata Sponge and Tayo Rolls, and a 5.6 per cent stake in Tata Motors worth Rs 5,300 crore (Rs 53 billion), apart from 4.4 per cent in Titan Industries.

It could also sell stake in Dhamra Port and in African Alloys, bankers said.

Tata Sons to take stake

The Group's holding company, Tata Sons, which made a record net profit of Rs 3,713 crore (Rs 37.13 billion) in 2012-13, is likely to pick up the stake in other Tata group companies, bankers say.

Ahmedabad-based Adani Group is said to be the frontrunner to buy out both Tata Steel and Larsen & Toubro's stake in Dhamra.

Tata Steel will use these funds to retire its consolidated debt of Rs 66,074 crore (Rs 660.74 billion) as of March, which it had taken to buy Corus in 2007.

In FY13, it had sold a 4.37 per cent stake in Titan Industries, the entire stake in subsidiary Sila Eastern Ltd and the entire stake in Wuxi Ltd (China), a profit of Rs 940 crore (Rs 9.4 billion).

When asked, a Tata Steel spokesperson declined to comment on the issue, saying a sale of assets was 'speculative'.

The stock is down 30
per cent since January over its debt woes but analysts say the worst is behind it, at least for the India business.
In an October 7 report, Barclays says Tata Steel has completed the implementation of its 2.9-million-tonne-a-year (mtpa) expansion project in Jamshedpur, expected to deliver an additional one mtpa by the next financial year.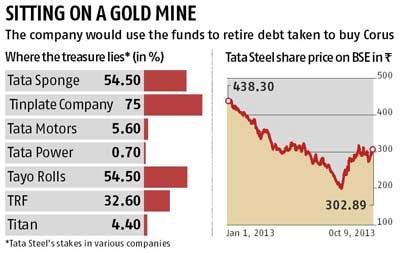 The new erection plan in Odisha seems to be progressing on time and the company expects to commission phase-I of the project by November next year.
"This would drive the next phase of volume growth in the Indian business.
The high-end 0.6-mtpa cold rolling facility (joint venture with Nippon Steel) is expected to be commissioned in FY14," it said.
Despite a weak demand environment, large domestic steel companies have been able to raise prices by three to five per cent across product categories in September.
Besides expectation of a recovery in demand, the key reason for the price rise is that exports have now become more profitable than the domestic market.
"With a pick-up in exports of steel products and lower imports, availability of the metal in the domestic market has been curtailed.
"Inventory levels are still not very high, which would support demand and might result in absorption of the price hike," the report said.