Govt rules out controls on FII capital as Sensex tanks 3.97%, rupee breaches 62 intra-day & gold surges the most in two years.

The stock market was pummelled on Friday and had its worst day in nearly two years, on concerns over the falling rupee and rumours about a move to stop foreign institutional investors (FIIs) from taking their capital out of the country. Fears about an imminent tapering of the US stimulus also played a role.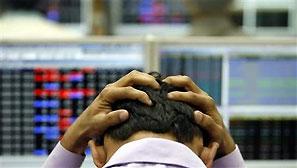 The government was quick in allaying the fears of market players. Terming the fall a knee-jerk reaction by brokers, the finance ministry said it had no intention to impose capital controls and denied market rumours of a proposal to increase margin money on short-selling of shares.

Finance Minister P Chidambaram said in New Delhi that jobs data in the US did not impact India and there was a need for calm to be restored in the markets. "We have taken a number of measures. Let us wait for what the first quarter growth numbers are," Chidambaram told reporters, adding the fundamentals of the economy had not changed.

Though emerging markets, in general, have been volatile on fears that the US might stop its quantitative easing programme (QE3), India was the worst-performing of the Asian markets on Friday, with all other indices falling less than one per cent.

The BSE Sensitive Index, or S&P Sensex, was down 769.41 points, or 3.97 per cent, to end the day at 18598.18, its worst single-day fall since September 2011. The National Stock Exchange's Nifty index closed at 5507.85. The NSE Volatility Index or Vix, the market's so-called "fear gauge", spiked 26.42 per cent to 23.64.

The rupee breached the 62-a-dollar barrier intra-day before recovering to a new closing low of 61.71. According to experts, heavy dollar demand by oil marketing companies is keeping the rupee under pressure. Government bond yields also climbed, with the yield on the 10-year benchmark bond ending at a nearly three-year high of 8.90 per cent.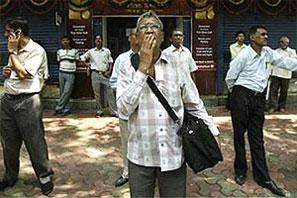 Meanwhile, gold surged the most in two years, rising to Rs 31,010 for 10 g on strong demand from stockists, ahead of the festive season, after the government increased import duty on the metal to 10 per cent.

Nirmal Jain, chairman, India Infoline, said the markets were going through a crisis of confidence following the Reserve Bank of India's move to tighten outflows, capping the limit for investors at $75,000 instead of the earlier $200,000.
"Investors have panicked, even though the capital control measures were meant only for domestic investors and not FIIs. This coupled with the liquidity tightening measures are making the macro-economic picture look bad."

Deven R Choksey, chief executive officer and managing director, K R Choksey Shares & Securities, agreed. "Today's fall was on fears that capital repatriation may not be allowed for foreign investors and worries over India's foreign exchange position," he said.

Interestingly, foreign institutional investors were net sellers by only Rs 563.23 crore (Rs 5.63 billion) on Friday, according to provisional exchange figures. In comparison, domestic institutional investors were net buyers by Rs 732.22 crore (Rs 7.32 billion).

The BSE Consumer Durables index was down 8.38 per cent on fears of falling consumer demand, while the BSE's Banking index was down 5.55 per cent.

Motilal Oswal, chairman and managing director of Motilal Oswal Financial Services, said the fall was affected by the weakness in the rupee, which hit an all-time low. "Besides fears of controls on repatriation activity by foreign institutional investors, the market was seriously concerned on the tightening of forex controls in addition to the rupee's decline," he said.

Blue-chips fell across the board. Axis Bank slumped 8.8 per cent and HDFC Bank 5.4 per cent, while Reliance Industries tumbled 4.4 cent. Among other stocks, ITC fell 4.3 per cent while Hindustan Unilever ended 2.9 per cent down. Tata Motors fell 1.6 per cent as Wednesday's 9.7 per cent gains on Jaguar Land Rover July sales were seen as overdone. Titan Industries shares slumped 12.1 per cent after RBI banned imports of gold coins and medallions and said domestic buyers would have to pay cash for the yellow metal, among other measures.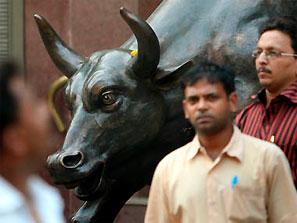 On the rupee, experts said they were expecting some measures from RBI. "We should expect some more measures to ensure that there is no runaway depreciation of the rupee against the dollar.
But a lot hinges on global factors. We are nearing the US Fed (Federal Reserve) meeting in the middle of September and the market will be watching that for cues on the future path of (QE) tapering," said Brijen Puri, executive director and head of markets, JPMorgan.

The negative sentiments in the government bond market resulted in partial devolvement in Friday's auction to the tune of Rs 1,444 crore (Rs 14.44 billion). The notified amount of auction was Rs 16,000 crore (Rs 160 billion).
"Government bond yields rose due to the rupee's depreciation against the dollar. Traders do not want to take fresh positions and that is also adding to negative sentiments. The 10-year US treasury yields also rose to historic high and that again impacted sentiments," said N S Venkatesh, chief general manager and head of treasury, IDBI Bank, and chairman of Fixed Income Money Market and Derivatives Association of India. However, he said, if investors have holding capacity, this is the right time to invest in government bonds.

Oswal said though a reversal is unlikely in the equity markets, further downside may be limited. "The trend is bearish, although downside may be limited. All the headlines are negative," he said.