Sun, Lupin and Dr Reddy's to lead here, with domestic formulations expected to rebound after Sept quarter.

After posting a strong 20-plus per cent growth in the March quarter, top Indian pharmaceutical companies are expected to show similar growth in 2013-14. While the momentum is likely to come from the US market, the revival in domestic business should also help overall revenue growth.

Manoj Garg and Perin Ali of Edelweiss Securities say revenue growth should sustain at double digits in FY14. At home, they believe an improved mix from niche launches is likely to mitigate the costs and negative impact from pricing policy. Among major companies, Glenmark has said it expects 18-20 per cent growth.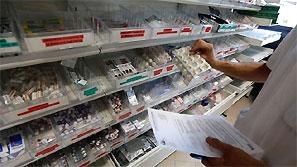 Given Lupin and Cadila's revenue targets over the next few years, expect them to grow 25-27 per cent annually, say analysts at Motilal Oswal Securities. Sun Pharma has also given a 18-20 per cent revenue growth guidance for FY14 from the existing (base) business.

For the quarter, while revenue growth was strong, Ebitda (earnings before interest, taxes, depreciation and amortisation) margins were up about 150 basis points, to 25 per cent, on new product launches. ICICI Securities' analysts say the launch of low competition products like generics Doxil and Stalevo by Sun Pharma, Tricor by Lupin and four oral contraceptive drugs by Glenmark in the US market led to the growth in margins.
While the latter might see some pressure, given higher research and development expenditure in niche and complex segments, some of this is likely to be mitigated by high-margin launches and branded sales.

The strong performance by pharma companies meant that after the March quarter, the sector (led by Sun Pharma) has seen the highest earnings upgrades for FY14. Most analysts have a buy call on Sun Pharma (target price of Rs 1,150), Cipla (TP, Rs 405), Lupin (TP, Rs 840) and Aurobindo Pharma (TP, Rs 265).
While Taro and other acquisitions are expected to drive Sun's growth, those of Cipla's would be driven by export focus, front-end presence in key markets and consolidation in South Africa (Medpro). Aurobindo's product filings in the US and Europe are its growth triggers, say Sharekhan analysts. Lupin's focus on limited competition products would accelerate its growth in the US, say Garg and Ali of Edelweiss.

Abroad
The pharma sector's growth in the March quarter was led by top generic exporters and their performance in the US market. ICICI Direct analysts say the US was the main driver, on the back of new product launches, increase in market share in existing products and higher realisation on the back of a favourable currency rate. Inorganic expansion by Sun Pharma was also a reason. Lupin and Sun Pharma were the only two companies in the National Stock Exchange's benchmark Nifty to record growth of over 30 per cent, thanks to the growth in the US.
Edelweiss Securities analysts say growth is now likely to come from an improved mix, from niche launches in the US and higher growth in branded generics' markets. These would mitigate research and development costs and the negative impact from pricing policy.

Price tweaks
Domestic formulations' growth has been on a slow track in recent months, with growth at a muted 10 per cent for the March quarter. Larger pharma companies reported revenue growth in the region of 11 per cent, less than the 14-20 per cent in previous quarters of FY13. Slowdown in sales of the acute therapy segment and the uncertainty on pricing were responsible for the muted show.

However, with pricing policy in place, things should look up, say analysts. A Sharekhan report on the sector says there could be massive de-stocking in the September quarter, with better growth expected in the second half of FY14.