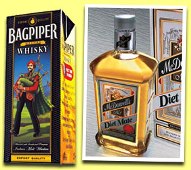 For brewers globally, 2009 was possibly the most depressing of times when a record six pubs closed everyday in Britain alone due to the economic downturn, but this did not dampen the spirit of Indians who love their tipple.
As a matter of fact, an Indian brand 'Bagpiper' became the world's largest selling whiskey.
Despite the hard times, spirit sales grew over 15 per cent -- about the same it did in 2008 -- to take the market size to about 214 million cases, which excludes country liquor.
Consumption of beer also grew over 14 per cent during the year to over 170 million cases, according to estimates.
If there was someone who had the real reason to cheer, it was UB Group chairman Vijay Mallya who scored twin victories -- Bagpiper, the brand he launched as a trainee in his father's company (United Spirits), beat Diageo's Johnnie Walker to become the world's largest selling whiskey, and after over a year he got the right to produce and market global brand Heineken in India.
Besides Heineken, Belgium-based brewer AB-InBev also positioned itself for a bigger share of the pint.
However, the wine segment wasn't as rosy because drought impacted vineyard production.
High duties imposed by the certain states on import of wine, spirits and beer also led to conflict with European Union, which dragged India to WTO dispute settlement courts.
EU meanwhile has threatened to block export of products from these states to Europe if they don't bring down duties.
It was an eventful year for the spirits category from corporate angle as well.
Talks between Vijay Mallya promoted United Spirits Ltd, which is the country's largest liquor manufacturer and the world's largest alcohol company Diageo dominated the headlines for about nine months.
USL initiated talks with Diageo to sell around 14.9 per cent stake to repay a part of Rs 5,000 crore (Rs 50 billion) debt which it took in 2007 to acquire world's largest Scotch maker Whyte & Mackay.
The talks, however, collapsed. Sources close to the development said that London Stock Exchange listed Diageo was interested in picking up more than 15 per cent stake in USL and was also demanding representation on the company's board, but Vijay Mallya was not keen on this.
Country's largest beer maker United Breweries ironed out differences with Dutch firm Heineken, which has around 37 per cent stake in the Mallya promoted company, and agreed to welcome the European brewer on its board.
Heineken had presence in India through a joint venture with bottling major C K Jaipuria which is in direct competition with UB.
This was a bone of contention between them.
In a dramatic turn of events, Jaipuria exited the JV with Heineken, clearing the way for tie-up with UB group.
Elsewhere, InBev acquired US-based Anheuser Busch for $52 billion.
Both companies were already competing in India through separate joint ventures.
Following the global merger of AB and InBev both companies have agreed to merge their operations in India.
InBev has a joint venture with India's biggest Pepsi bottler, Ravi Jaipuria group, in which the Belgian beer maker had 49 per cent stake and Anheuser Busch had operations in the country through its JV with Crown Beer International.
Post their merger on international turf, the two companies began negotiations for amicable solution to conduct business in India. Cobra Beer, founded by Karan Bilimoria, Indian-origin entrepreneur based in London, witnessed the worst ever turmoil forcing it to sell majority stake to UK's Molsoon Coors, which is the largest brewer globally by volumes.
The JV will be owned 50.1 per cent by Molson Coors and 49.9 per cent by the new company controlled by Bilimoria, who would be its chairman.
Molson has put in 14 million pounds to pay off Cobra's secured creditors and will now control of a debt-free business that Lord Bilimoria tried to sell last year for as much as 200 million pounds.
Bilimoria, however, said, "Indian operations of the company have been kept out of this deal and would continue to invest in this."