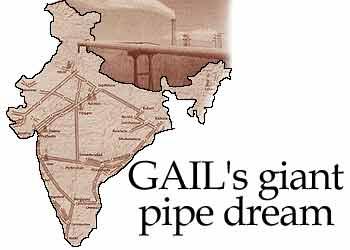 In his elegant office in south Delhi, Prashanto Banerjee's eyes keep flicking back to the flat-screen PC monitor on one side of his desk.
At a push of a button or a click of the mouse, the terminal spits out statistics about the world of gas. The maze of figures cover everything from the latest international prices to information about pipelines being built around the world.
Banerjee has a good reason for not taking his eyes off the screen. As chairman of the mammoth $2,566 million Gas Authority of India Ltd, he presides over a gigantic gas distribution network.
And he's about to move into overdrive in spectacular style.
GAIL is about to embark on a series of projects that give a new meaning to the word mega. In the next five years it will be supplying gas to homes and factories around the country.
To do this it must virtually triple existing pipeline capacity during this five-year period.
The statistics for the years ahead are awesome. To achieve its objectives the gas giant must build 7,900 km of new gas pipelines.
The investment involved: a staggering Rs 20,000 crore (Rs 200 billion).
These pipelines will criss-cross the country from east to west and north to south. They will bring gas to cities like Ludhiana, Agra and Pune.
They will also bring gas from LNG terminals on the coast to the deep hinterland of the Indian sub-continent.
Banerjee and his men have already put together the blueprints for the first steps forward. In the next 14 months GAIL will invest Rs 4,400 crore (Rs 44 billion) to build  new pipelines in the first phase.
Says Banerjee: "Our aim is to create a pipeline grid by which gas can be delivered from any source to any market where there is demand."
A number of circumstances are forcing GAIL to move at blitzkrieg speed. Firstly, a series of gas finds -- like the Reliance mega strike in the Krishna-Godavari Delta -- mean that more than double the amount of gas will be available by 2006.
Throw in imports and availability will be almost three times current levels in a few years. It goes without saying that this increases the urgency of putting in the pipelines that will take the product to the customer's doorstep.
What will happen once all this gas becomes available? The short answer is that India's energy usage patterns will change. Currently, natural gas provides about 8 per cent of India's energy needs. That's slated to climb to 25 per cent in the next 15 years.
GAIL will start distributing gas in about 16 cities and that will only be the smaller part of its operations.
In the industrial sector gas will be used to run most of the country's fertiliser plants, some power stations, steel mills, oil refineries and a range of other industries.
For the time being, however, the country is stuck in an unusual position. Availability is falling far short of demand (demand is at 89 million standard cubic metres per day[mmscmd] but availability is stuck at 63 mmscmd).
As a result the country is now being forced  to import liquid gas and regasify it. Also, the lack of pipelines is creating shortages even in areas where the gas might have been available.
Take a look at what is happening on the ground. Demand for gas has outstripped supply in Delhi, Uttar Pradesh, Haryana and Rajasthan.
At the same time the gas shortage has led to a fall in the capacity utilisation -- from 95 per cent to 80 per cent -- of Gail's HBJ pipeline which serves the northern Indian market.
How can this be put right? GAIL hopes this problem will be fixed when it completes the 620-km Dahej-Vijaipur (MP) pipeline.
The pipeline, scheduled to be ready in December 2003, will pump imported gas from the new LNG terminal being built in Dahej in Gujarat.
(The new terminal is being built by LNG Petronet, a joint venture between the public sector oil companies and Gail).
A similar situation prevails in Maharashtra where there is a whopping 50 per cent gap between demand and supply.
GAIL hopes to meet the shortfall when its Dahej-Uran pipeline is completed in December 2004. The pipeline will pump imported gas from Shell's Hazira terminal in Gujarat.
Coping with shortages is one thing. But GAIL is also being forced to act quickly because of the new mega gas finds in the Krishna-Godavari belt.
According to current estimates there is likely to be a generation of 40 mmscmd of gas per day in the region (that's between Reliance and Gujarat State Petroleum Corporation). ONGC has indicated that it will strike it rich in the region.
GAIL is looking at transporting this gas west to Pune and south to Chennai.
It reckons that on the way these pipelines will be used to supply private power plants in Andhra Pradesh, the Pune industrial belt and industries in Vizag. It will also help to end shortages in Maharashtra.
To reach that target GAIL must prospect for more gas and build pipelines to ensure it reaches customers. One ambitious project is taking place in Myanmar where GAIL is in a joint venture prospecting for gas.
The partners in Myanmar are scheduled to drill the first well in December. Once gas becomes available from the project it will be brought by an overland pipeline from Bangladesh to West Bengal.
GAIL is also extremely hopeful about striking gas in the Bay of Bengal. If that happens, it could transform energy usage in the eastern region.
Making estimates about potential users is proving to be almost impossible because that will become clear only when the gas is available.
Today, 80 per cent of the available gas is used by the power and fertiliser sector. But GAIL executives point out that the Mathura refinery is already using gas.
Talks are also underway with IOC's Vadodara and Panipat refineries to use regasified imported LNG. GAIL also hopes that gas from the Dahej-Uran pipeline will feed the requirements of HPCL and BPCL's Chembur plants in Mumbai.
GAIL is even talking to companies like Reliance and Essar and has suggested that it will build a feeder pipeline to Jamnagar.
Says Banerjee: "There is a large demand expected from both the Reliance petrochemicals complex and the proposed Essar refinery."
Meanwhile, GAIL is looking at different ways to expand its reach into the domestic sector. In some cities it will form separate companies (like Mahanagar Gas in Delhi) to supply the sector.
Talks are already underway with the West Bengal Government to acquire the defunct Greater Calcutta Gas Supply Corporation.
Says a GAIL executive: "The company has been out of action so most of its pipelines are unsuitable for usage. We are in negotiations with the state government to take it over."
That's for starters. GAIL is also working on a blueprint to offer gas in Kanpur, Lucknow, Faridabad, Agra and Pune, primarily using imported LNG gas for now.
Says a senior executive: "The Dahej-Uran pipeline will be extended to Pune in 78 months to offer gas in the city. Also, markets like Surat, Vadodara and Ahmedabad will get into the city gas grid."
But Gail's ambitious plans have received a giant push forward from the Government's draft policy on gas pipeline development. The draft, issued last month, virtually ensures a GAIL monopoly on all inter-state pipelines.
Under the policy, only GAIL will be allowed to create a pan-Indian pipeline network which will be used by everyone in the sector. An independent regulator will fix tariffs.
In simple terms all pipelines over 100 km long will be the sole prerogative of the corporation.
Of course, gas producers will be allowed to lay smaller pipelines to supply their consumers. Also, pipelines that have already been approved will be allowed to continue.
Inevitably, the draft policy has created a storm. Banerjee defends the GAIL monopoly and points out that the giant investments aren't worth it for private sector players. He insists that such monopolies are common around the globe in the pipeline business.
Whether that's true or not, the private sector companies are livid about Gail's pipeline monopoly.
Says a senior executive: "Without competition the regulator is useless because what is the guarantee that they have the efficiency to build the project."
Another executive says that GAIL is already charging exorbitant tariff for the use of the HBJ pipeline.
Some analysts, however, believe the government is making the right move.
"Why create a parallel capacity? It doesn't make for efficient capital expenditure, especially when the country is looking for more investments in every sector," says Jaspreet Singh, an analyst tracking the oil and gas sector at broking firm Parbhudas Liladhar.
Secondly, many sceptics point out that GAIL by virtue of also being a marketer of natural gas, may muscle out its competitors who will be at their mercy.
Says a competitor: "They might give preferential treatment to themselves while transporting gas, so what recourse do we have?"
Analysts also point out that GAIL will be stretching its finances by trying to put together such extraordinarily large projects in a short time.
"GAIL does not have the cash to fund the entire pipeline infrastructure. It will generate Rs 2,000 crore (Rs 20 billion) this year and Rs 2,000 crore every subsequent year. It will largely look at a 1:1 debt equity ratio for funding," says Singh.
Banerjee, however, does not see financing to be a problem and points out that the company can leverage its balance sheet. Currently, the debt to equity ratio is a mere 0.2 is to 1.
Internally, it also generates over Rs 2,000 crore annually. Spread over years, this can finance virtually half the project.
But GAIL is also open to looking at other alternatives: it could raise more equity or borrow from multilateral agencies which offer concessional interest.
Says Banerjee: "Unlike in a refinery where revenue comes only when the full project is completed, gas pipelines can be done in phases and revenue streams opened once one stretch is completed. So we will not require the total Rs 20,000 crore in one go."
Industry observers, however, go further and question the very viability of some pipelines as Reliance is also putting up pipelines to reach the same markets.
The government has already cleared two Reliance gas pipeline proposals: one stretching from Jamnagar to Cuttack and the other from Kakinada to Goa.
Says a senior executive of a pipeline company: "The key element would be who gets the first-mover advantage to, say, build a link between the south east (Krishna Godavari belt) and the west. If, say, the first mover builds a 46-inch diameter pipeline in this route it will have enough capacity for 10 years."
Adds another gas expert: " Reliance has a large gas find in the south east. So GAIL could have problems as it is not a producer there."
But Banerjee and his team are aware of the challenges ahead. And he is already taking the first moves to ensure that the criticisms are taken head on.
For starters, a move is already on to separate the company's marketing and trading activities so that they are at arm's length from each other.
GAIL plans to spin off the trading of gas business into a separate subsidiary with separate accounts. This company will be listed on the stock exchange.
To ensure that tariffs are transparent GAIL has decided to certify its final tariffs with US-based NERA, a worldwide expert in this arena. It will get one of the leading accountancy firms to certify its investments on the pipelines.
GAIL also argues that return on investment in this business cannot go over 12 per cent -- so it isn't easy to overcharge customers. And of course, there will be a regulator who will be the final word on disputes.
But what about competition from Reliance? Banerjee is not commenting. But he is talking to everyone to prevent a row flaring up.
Powered by