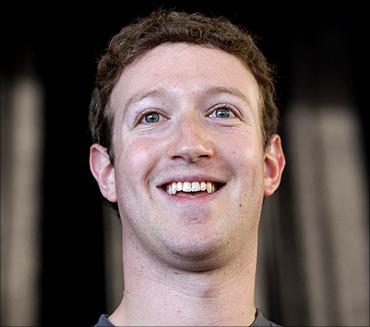 Facebook is on road to help users solve "bigger" and "complex" problems, founder and CEO of the social networking giant Mark Zuckerberg said.
Facebook, which completes 10 years today, has 1.23 billion users globally with 757 million of them logging onto the website at least once everyday. In India too, Facebook has a huge following. About 93 million users log onto the website (at least once a month), while 41 million access it once a day.
At the end of December, 75 million Indians were estimated to have accessed Facebook from their mobile phones, while 31 million logged in daily from their phones.
"I'm even more excited about the next 10 years than the last. The first ten years were about bootstrapping this network. Now we have the resources to help people across the world solve even bigger and more important problems," Zuckerberg said in a note.
He added that currently only one-third of the world's population has access to the Internet and the next decade presents opportunity and responsibility to connect the remaining two-thirds population.
"Today, social networks are mostly about sharing moments. In the next decade, they'll also help you answer questions and solve complex problems," he said. Facebook, which started off as an effort to connect the school community, has grown to become the world's largest social network, beating the likes of MySpace and Orkut.
Sharing his insights on the 10-year journey, Zuckerberg said that while he was excited to help connect his school community, "one day someone needed to connect the whole world".
"While some doubted that connecting the world was actually important, we were building. While others doubted that this would be sustainable, you were forming lasting connections. We just cared more about connecting the world than anyone else. And we still do today," he said.